*FYI - this post may contain affiliate links, which means we earn a commission at no extra cost to you if you purchase from them. Also, as an Amazon Associate I earn from qualifying purchases. Check out our Privacy Policy and Disclosure for more info.
This post originally appeared on Happy to Wander.
Tis the season to Wiesn, and even if you can't be in Munich for the big day, I bet 5L of beer will be sufficient to transport you there virtually.
And what would be the perfect setting for this gluttonous no holds-barred beer chugging? Your own DIY Oktoberfest party of course, i.e. the next best thing if you can't jet off to Germany to pillage their alcohol supply.
As a Munich local and Oktoberfest worshipper (we call it the Wiesn here by the way), it has taken me a while to adjust to the idea of not having a "real" Oktoberfest this year… but as I've learned, you'll be hard pressed to get between a Bavarian and their beer festivals.
DIY versions and mini-versions of Oktoberfestivities have been popping up all around the city, which has given me some inspiration to dump all my wildest hopes, ideas and dreams into this Oktoberfest party planning guide for you.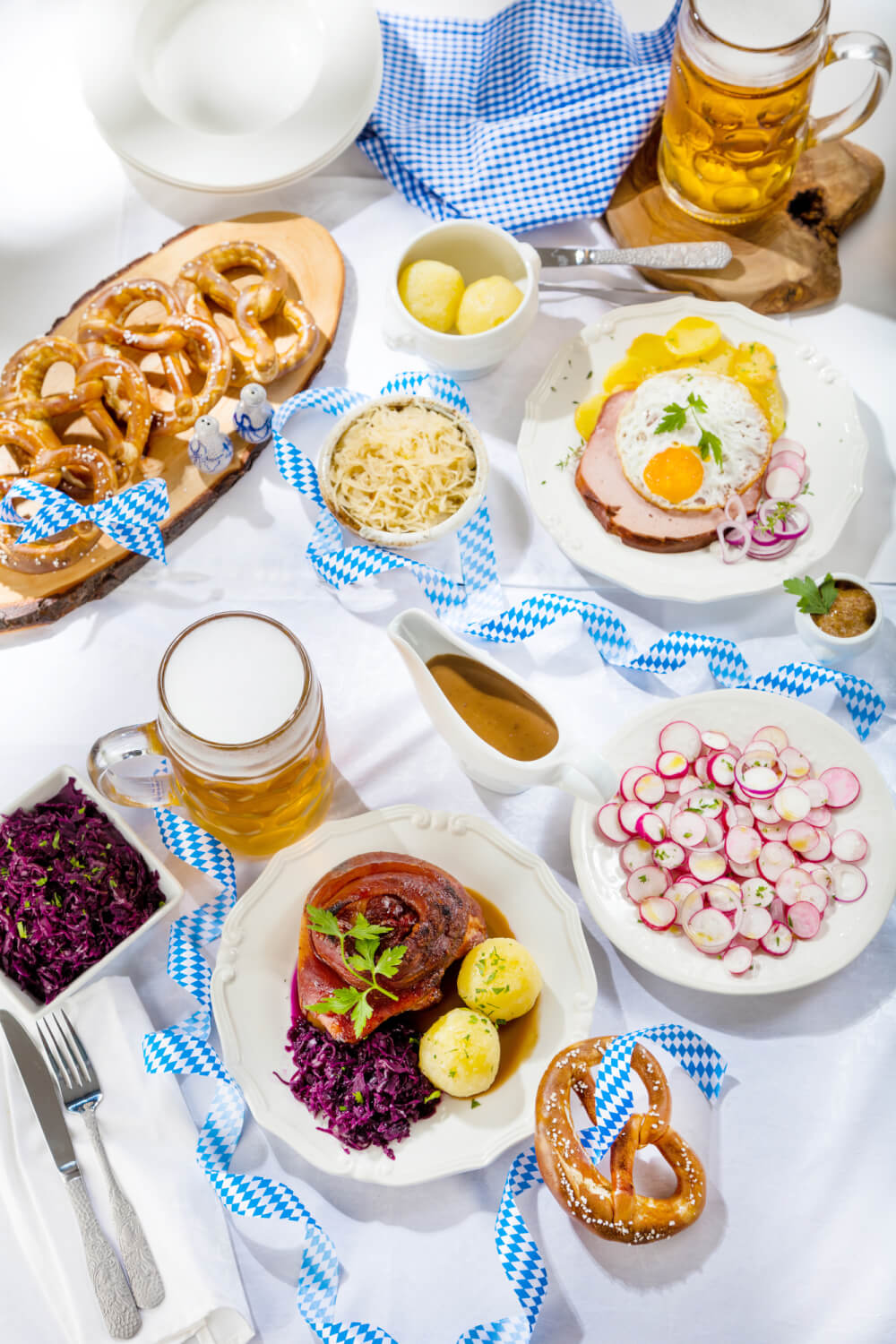 In this post, you'll find a step by step guide on everything you need for the perfect DIY Oktoberfest party. And since the real Oktoberfest is a family affair with plenty of kids attending too (hard to believe, but it's true!), I've included a lot of inspiration for different Oktoberfest party ideas, including kid-friendly activities, non-alcoholic drinks, etc.
I hope you find this all-in-one planning guide helpful!
Your Oktoberfest Party Planning Guide: Overview
This guide is lengthy but I promise it'll tell you everything you need to know to plan your own Oktoberfest party.
In order, we'll be tackling all of the following topics. Since there is so much ground to cover, I'm mainly summarizing all the important points below, but you can also click on the articles in this list for detailed coverage:
Your Oktoberfest party playlist
Oktoberfest party invitations
The proper beer festival drinkware
Party favours
What to wear to your DIY Oktoberfest
Oktoberfest Activities
THE END!
Now, step by step, grab a prepping beer (you need to build up your tolerance) and let's go!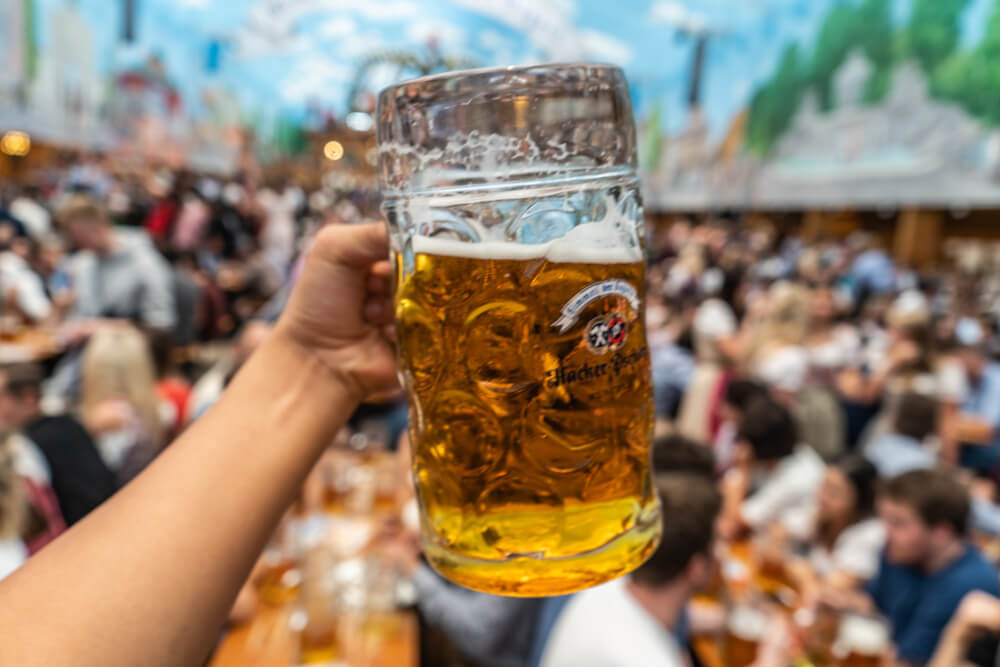 1. Get that Oktoberfest playlist ready
I'm starting with this as #1 because you'll want to blast this playlist through every stage of the party planning process to get in the mood. It's a Spotify playlist that includes all the top Wiesn hits (with some familiar tunes you're sure to recognize).
Trust me, if you're not shouting German lyrics (with their accompanying dance moves) at your guests by the time they arrive, you are not Oktoberfesting correctly.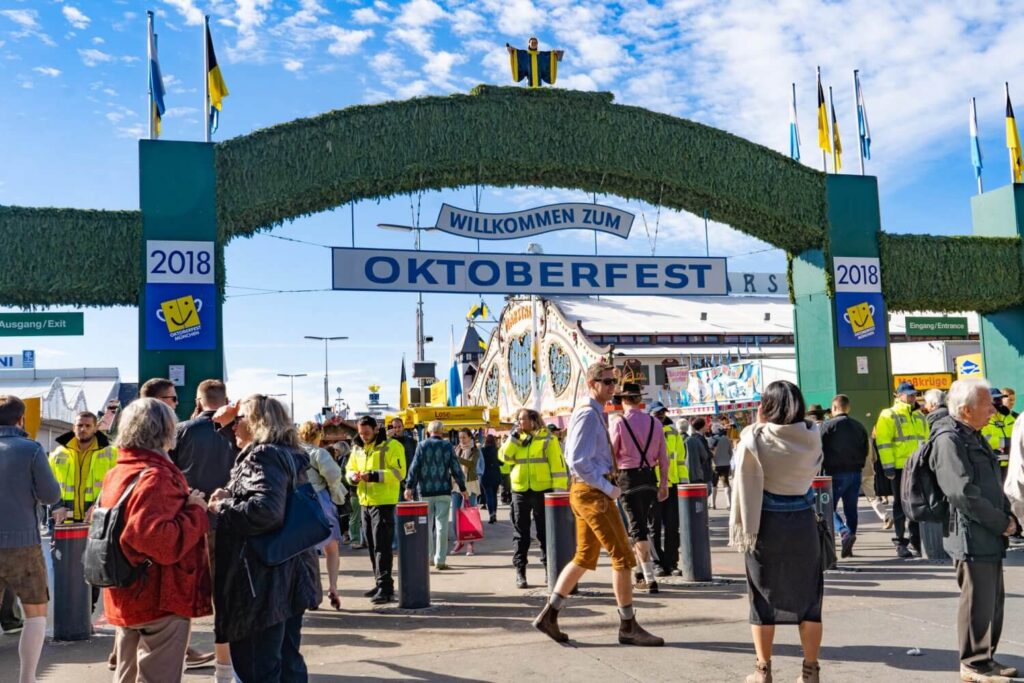 2. Send out Your Oktoberfesty Party invitations
If you want to be all ~ modern ~ and ~ normal ~, feel free to just set up an event on Facebook or better yet, create a confusing group chat that will haunt your phone with pings for years to come.
If you want to be cute and annoyingly extra however (I know I sure am), Oktoberfest themed invitations might be a nice idea. What else are you going to do with all this extra time at home?
Here are some Oktoberfest invitation ideas that are a little over the top, but invariably adorable:
OPTION A: Cartoony blue and white Oktoberfest invites
If you're going for a classic cartoony Oktoberfest invitation, this one is awesome and it comes as an instant printable so you can start sending them out right away.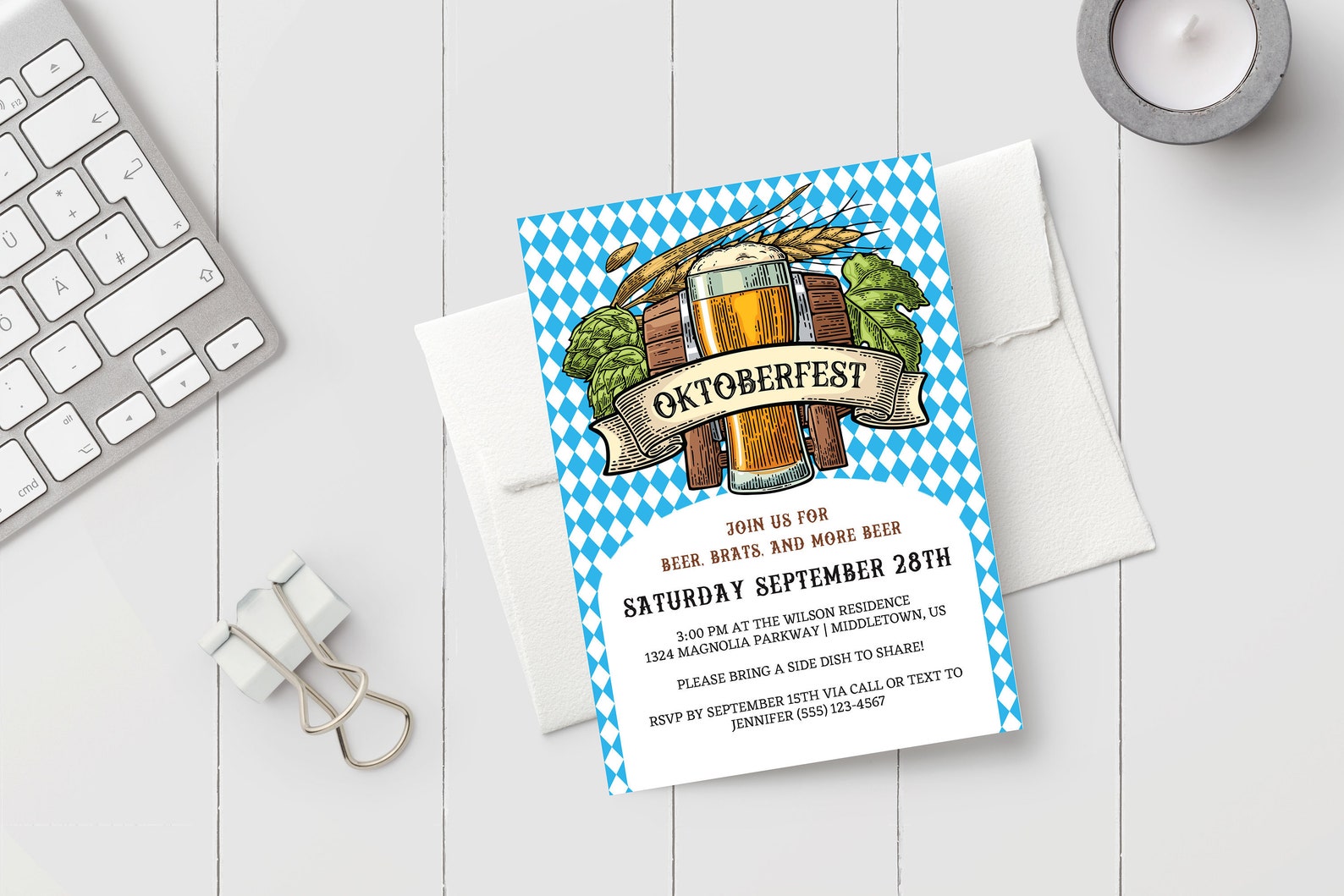 OPTION B: Rustic Autumn-y Oktoberfest Invites
If you're going for more of a rustic Autumn theme for your Oktoberfest party, this adorable invitation might be more your speed. You can get it customized with your party info and then print it out yourself for quick and easy invites that are sure to impress!
Click here to check prices and reviews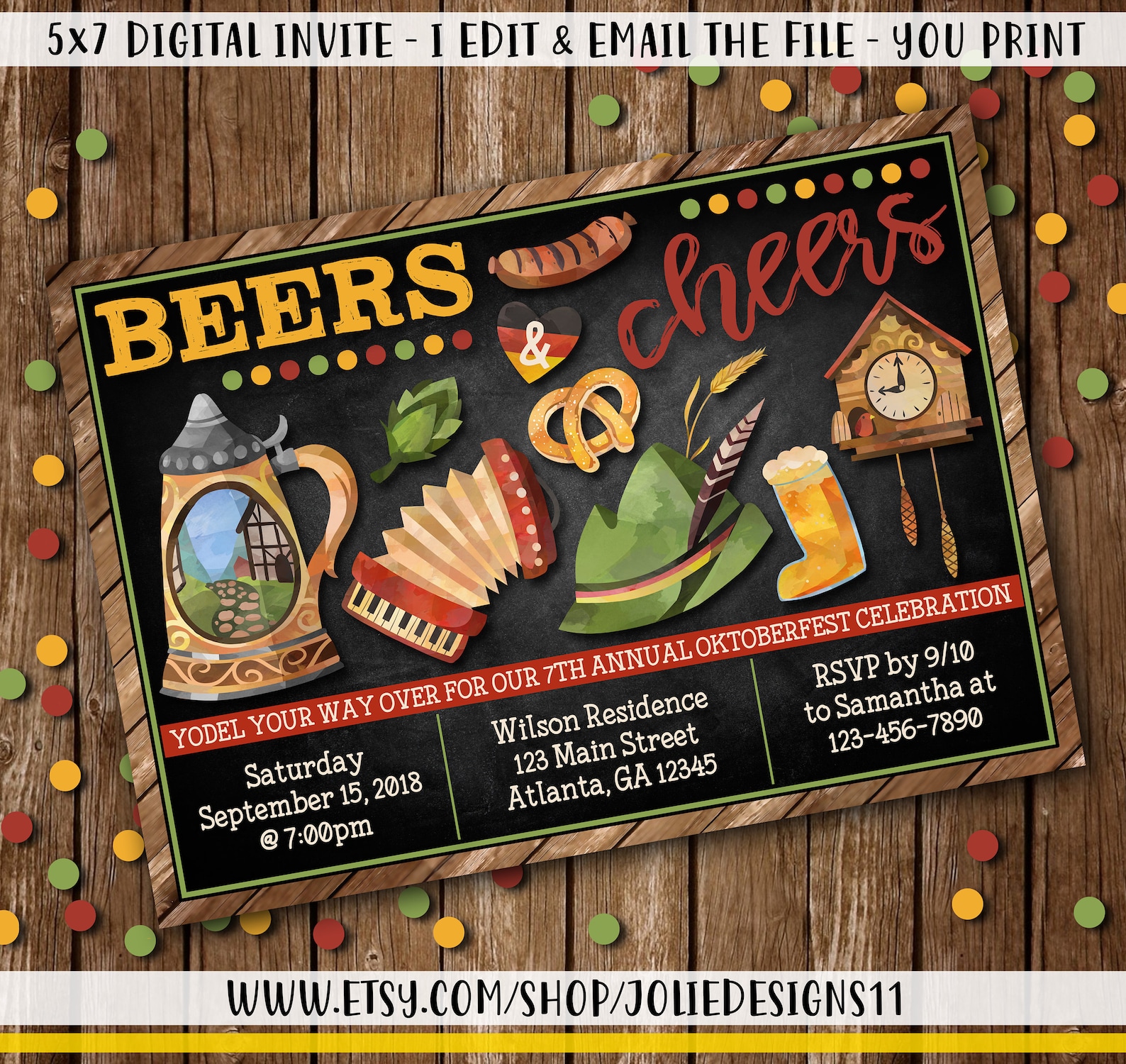 DIY OPTION: Make your own on Canva
If you want to save a bit of dough and make your own Oktoberfest invitations, then you should check out Canva. It's a super easy (free) site that allows you to easily design graphics for yourself! Here are some of their Oktoberfesty templates.
That said, you do have to pay for certain premium icons and photos, but it'll still likely turn out to be cheaper than buying them elsewhere. This is an example I drafted up and it would cost about three bucks to remove the watermark: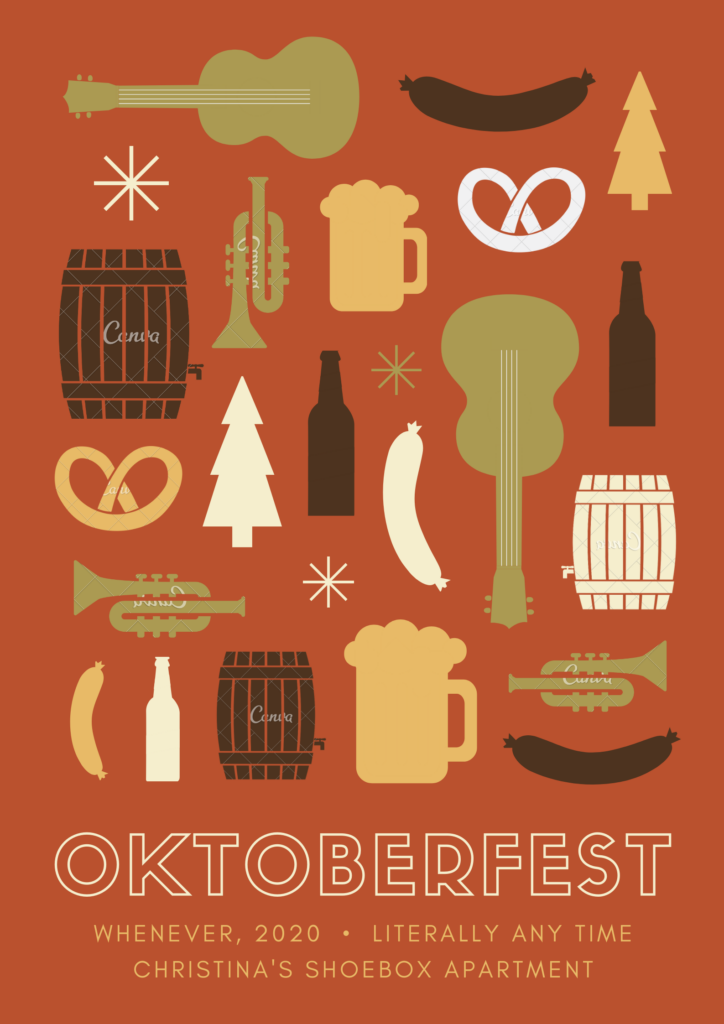 3. Stock up on your Oktoberfest booze stash
This is #3 on the list because it is SO important. An Oktoberfest without proper beer is a tragedy.
True story: I attended an "Oktoberfest" back home in Vancouver once and they were serving HEINEKEN. I almost vomited out of rage.
Long story short, what you're looking for in order to emulate a proper Munich Oktoberfest is actual Munich beer. Yes, they're so picky that only breweries within the city limits get to have tents of their own at the festival, and you should be just as obnoxiously choosey with your beer selection if you want your Oktoberfest to be the best!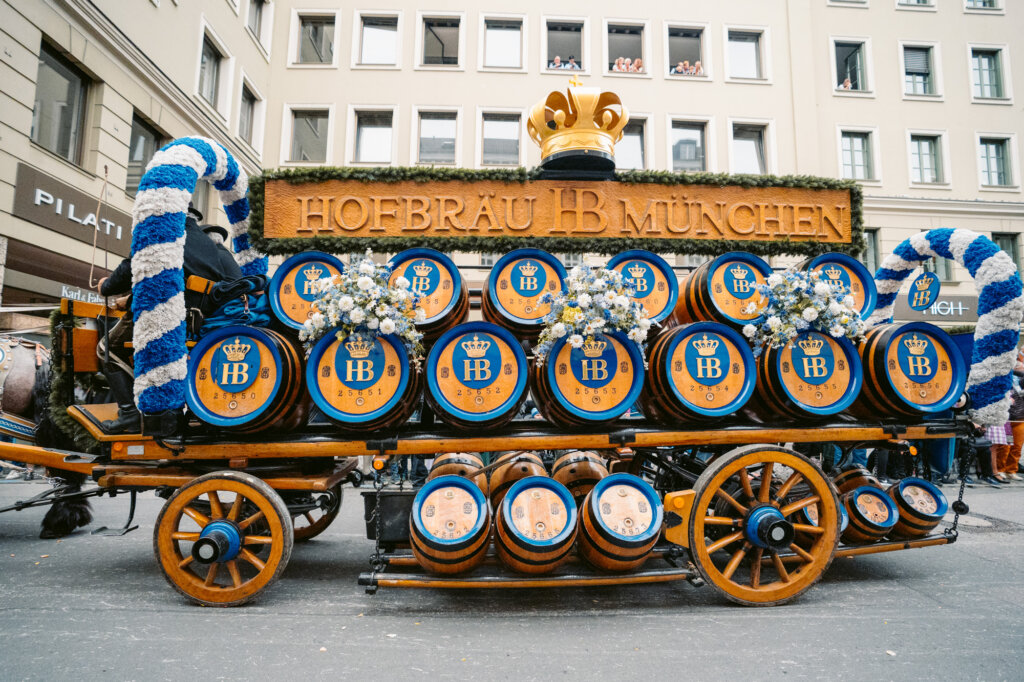 Here are Munich's "Big Six" breweries and the tents that serve them, in case you wanted to be extra and emulate a specific tent:
Augustiner: Augustiner-Festhalle, Fischer-Vroni
Paulaner: Armbrustschützenzelt, Winzerer Fähndl, Käfer's Wies'n Schänke
Spaten: Marstall, Schottenhamel, Ochsenbraterei/Spatenbräu-Festhalle
Löwenbräu: Schützen-Festzelt, Löwenbräu-Festhalle
Hacker-Pschorr: Hacker-Festzelt, Pschorr-Bräurosl
Hofbräu: Hofbräu Festzelt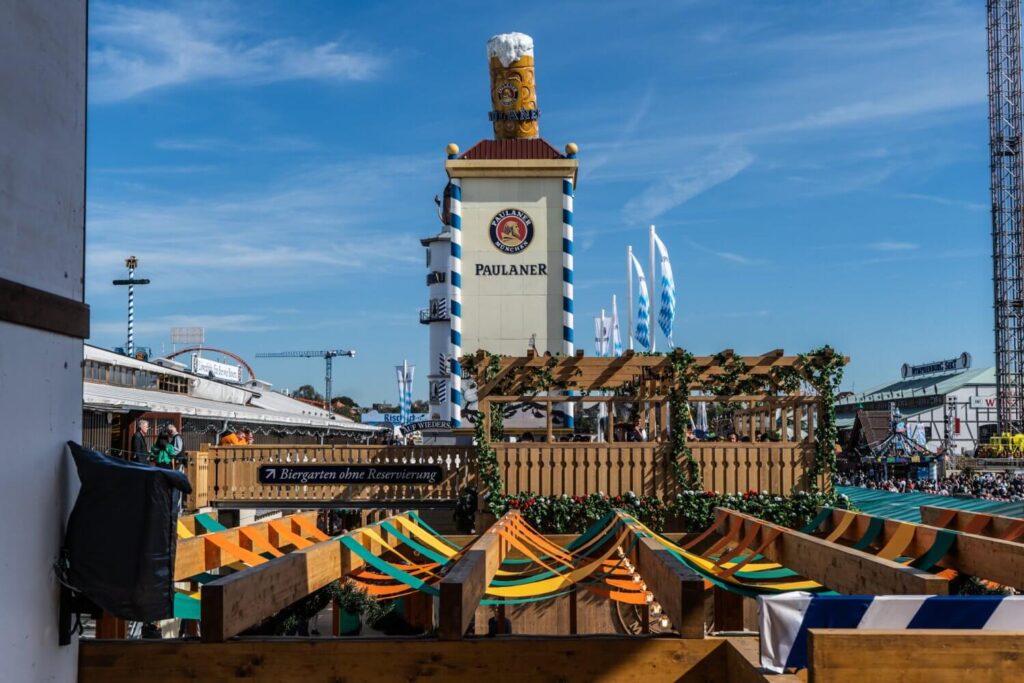 Of course, depending on where you are in the world, you might not have access to all 6 and that's okay! Augustiner is notoriously hard to get ahold of abroad (we kind of like to keep that one for ourselves) BUT the hierarchy of priorities for your beer shopping should go like this:
Oktoberfest brews from one of the Big Six above. If you can't find any then…
Regular beer from one of the Big Six above. If you can't find any, then…
Bavarian beer (Weihenstephan and Erdinger are commonly found in North America). If you can't find any, then…
German beer of some kind. If you can't find any, then…
Cancel the party. Seriously. If you serve Coors Light at your Oktoberfest party, I WILL somehow find out and come egg your house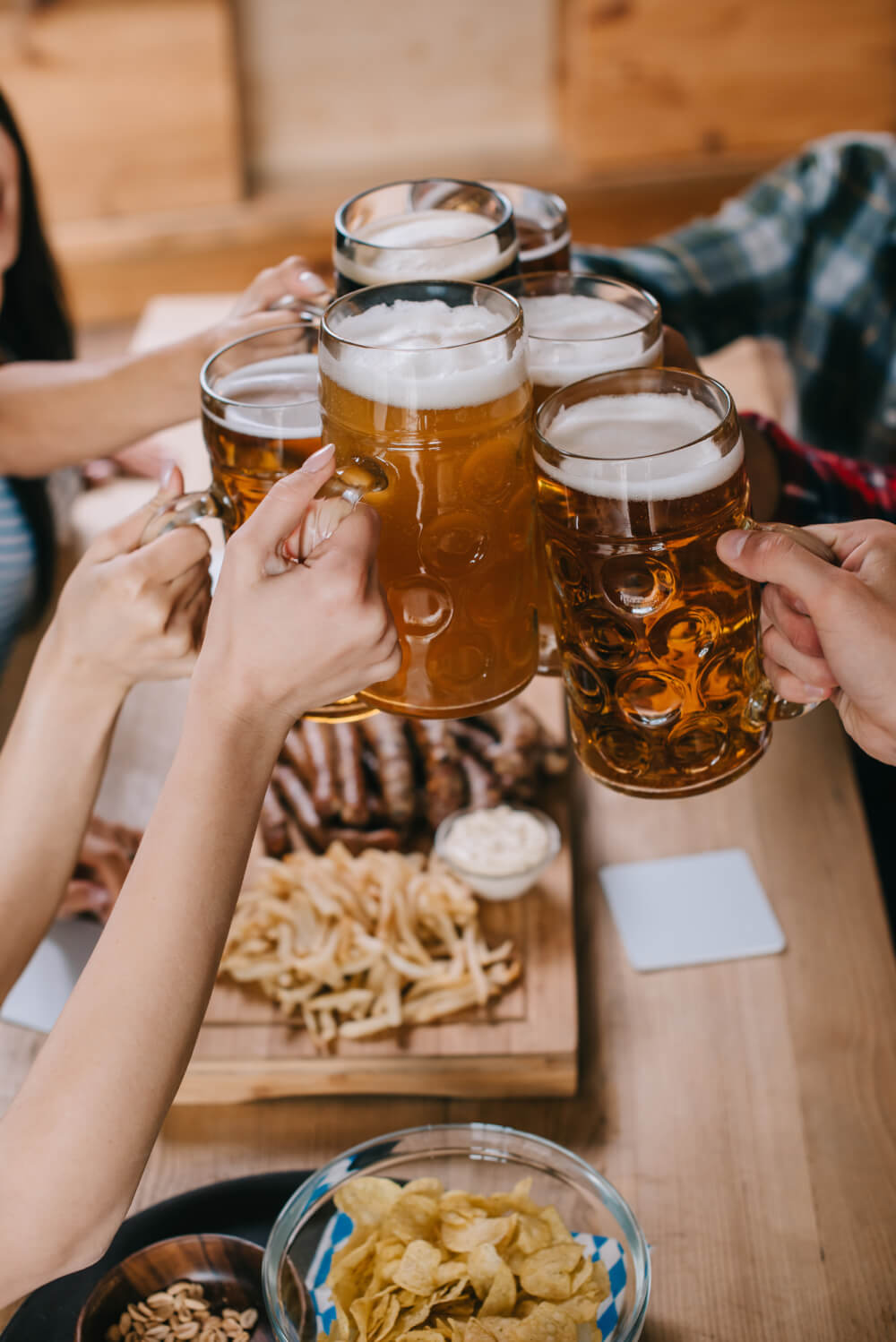 You should of course try to cater to those who don't like beer, or simply those who don't drink. A few options to diversify your Oktoberfest party drink selection would be:
Radlers: Beer + Sprite. Very refreshing and a good choice for those who don't like the taste of beer
Juices + sparkling water: Bavarians LOVE doing this and they call them "Schorle". Apple juice + sparkling water (Apfelschorle) is a common one that kids love having at Oktoberfest. It also looks just like beer so that's fun.
Wine + sparkling water: This is a Weinschorle and is commonly consumed at Oktoberfest too by non beer-drinkers
Spezi: This is literally half Fanta, half Coca Cola. Weirdly, it works, and it's one of the most popular soft drinks in Bavaria. You can easily DIY it by mixing any cola with any orange soda!
Click here to learn more about the drinks they actually serve at Oktoberfest, including non-alcoholic options.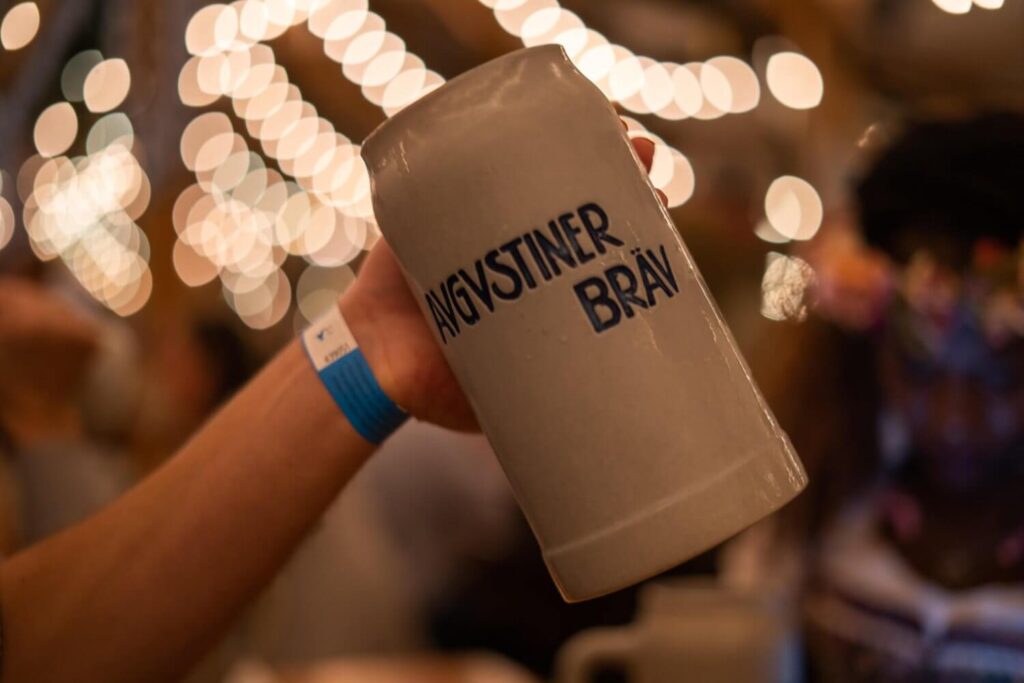 4. Secure your Oktoberfest Drinkware
If you want to go FULL authentic, you should be getting 1L Maß like these. This is the standard that is used at the real Oktoberfest. Yes, no half litres, no bottles, and most definitely no cans. Welcome to the big leagues!
You can get unbranded standard 1L ones like this online. If you want to take things one step further, there's an official Oktoberfest shop that sells stone Maßkreug here, or you can also find branded ones from the Munich breweries on Amazon here.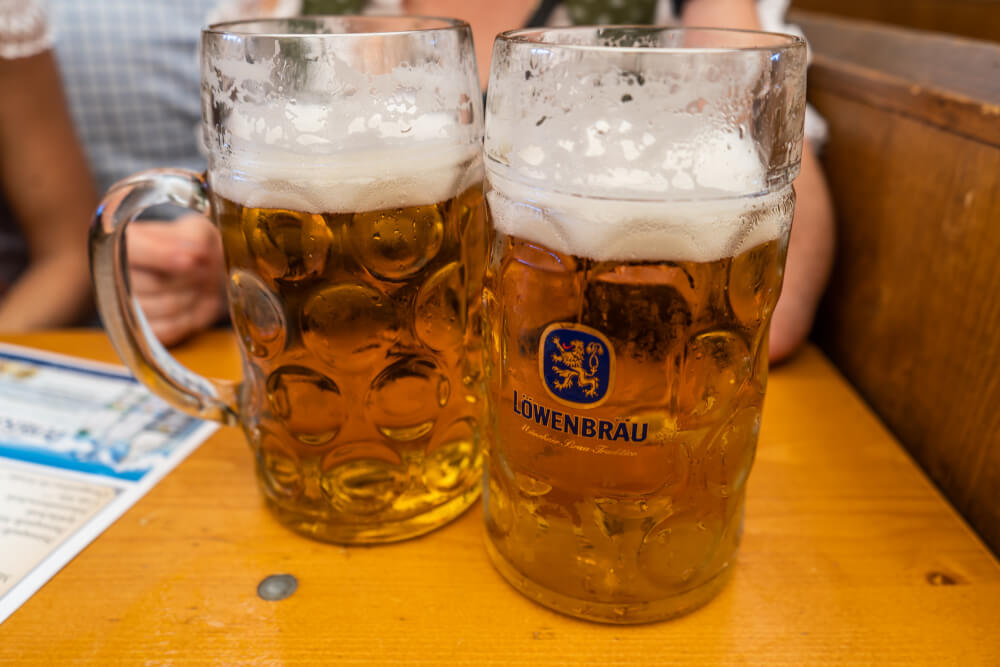 If splashing out on 1L glass Maß just for the occasion feels excessive, then you can also get plastic versions here.
In a pinch, you can also get Blue Solo cups here.
Overall though, having 1L Maß is your best bet for getting the most Oktoberfesty vibes.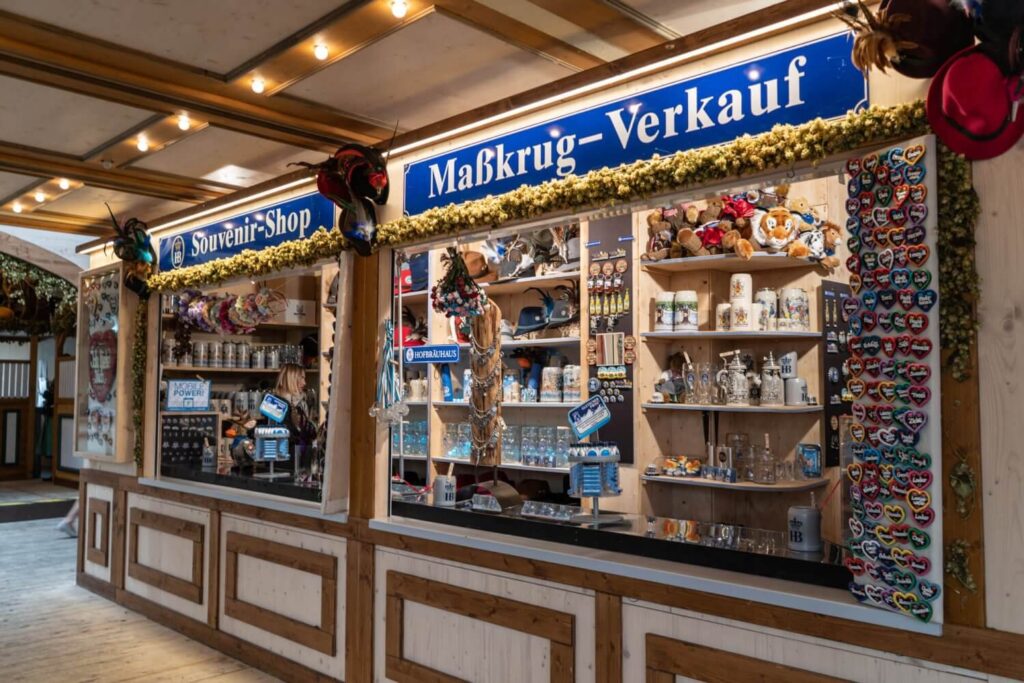 5. Prepare your Oktoberfest menu
Alright let's get to the good stuff!! Oktoberfest foooooooood.
Can you tell I'm drinking while I write this?
Anyway, here is my full roundup of the best Oktoberfest recipes to make at home.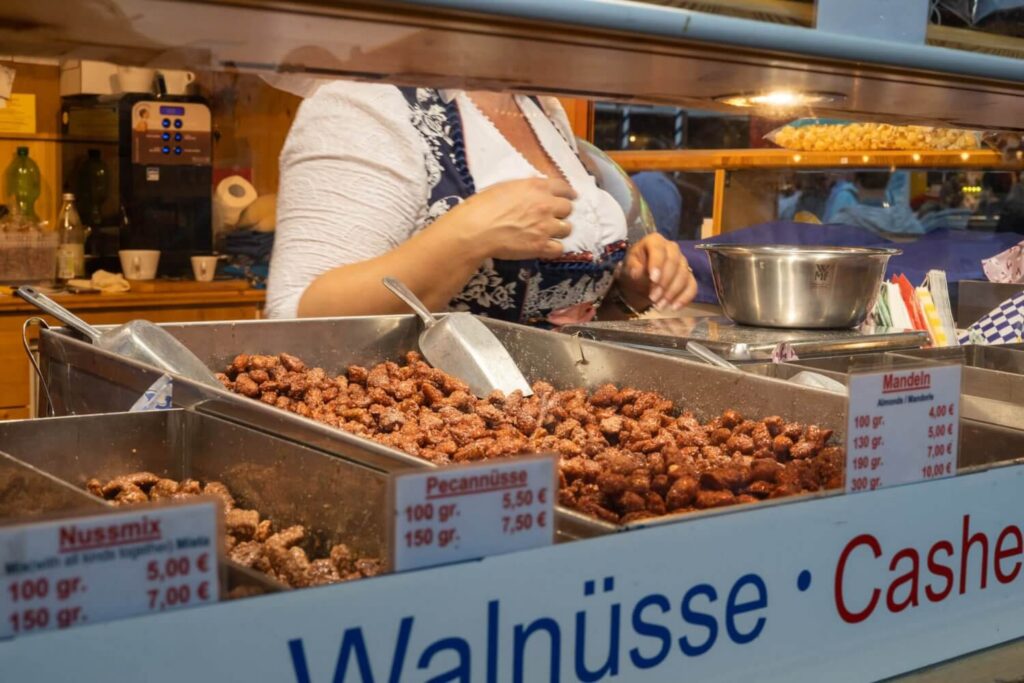 There are tons of options for Oktoberfest party food, and the best choice for you will of course depend on how many people you're serving, how much money you want to spend, and just how much time you've spent binging Food Network and Pinterest lately.
Here are two "routes" I'd say you can pick for your Oktoberfest party food selecton…
OPTION A: Buffet Style Oktoberfest Party
If you want to keep things simple, I would recommend catering your Oktoberfest party buffet-style, either with just finger foods (easier and cheaper) or also a selection of mains too.
The best thing about most Oktoberfest appetizers is they're tasty cold and can usually last out on their own for a while, so you can prep everything in advance, plop it on a table (decked with a Bavarian tablecloth like this maybe?) and let the heathens feast as they please.
Here are some ideas for Oktoberfest finger foods to include in your buffet:
Large soft pretzels
Obatzda (an amazing Bavarian cheese spread)
Bread slices with Bavarian toppings (e.g. Leberkäse)
Mini-salads in mason jars (e.g. German potato salad)
A Bavaria-inspired charcuterie platter with various cheeses and cold cuts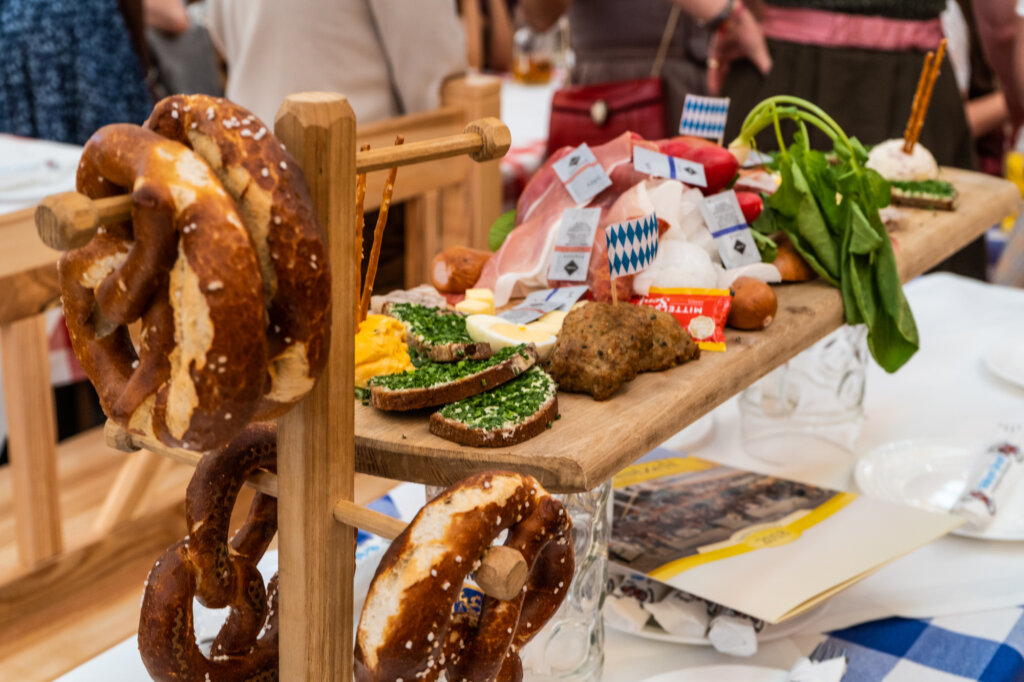 And if you want to include main dishes and sides too, here are some things that can be prepared in bulk and served buffet style:
A bunch of roast chickens
Bratwursts
Wurst Salat (sausage salad)
Schnitzels
A big pan of Käsespätzle
Sauerkraut
Red cabbage salad
German potato salad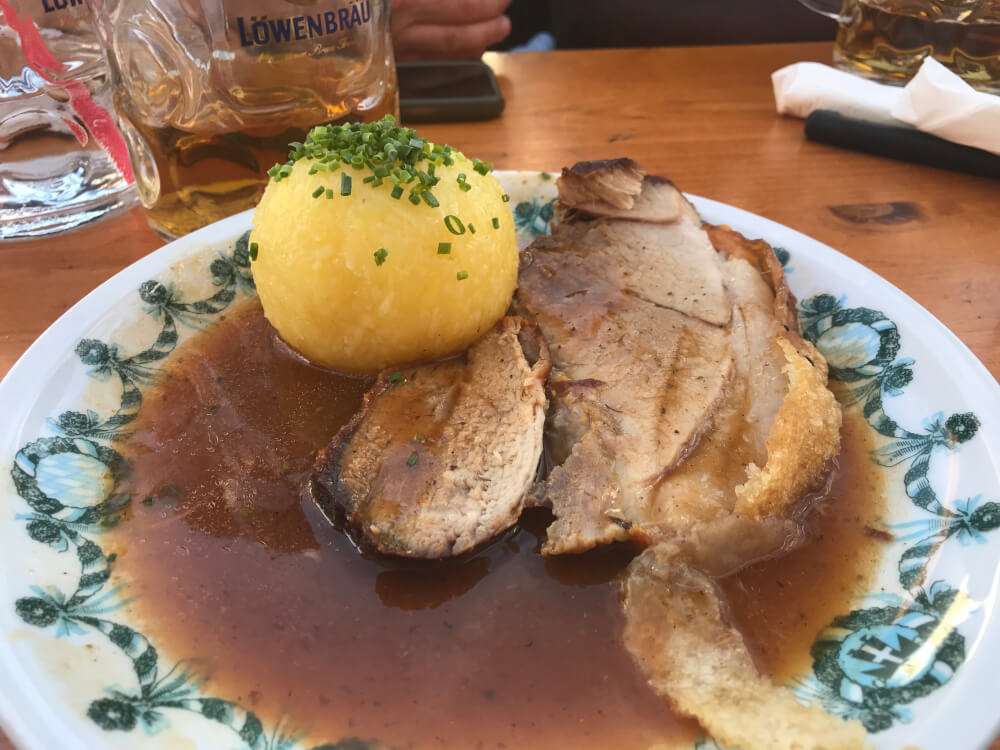 And don't forget desserts! Something that would work well in a buffet style would be roasted almonds, apple strudel or Kaiserschmarrn (shredded pancakes).
You can click here for a full list of Oktoberfest dessert ideas.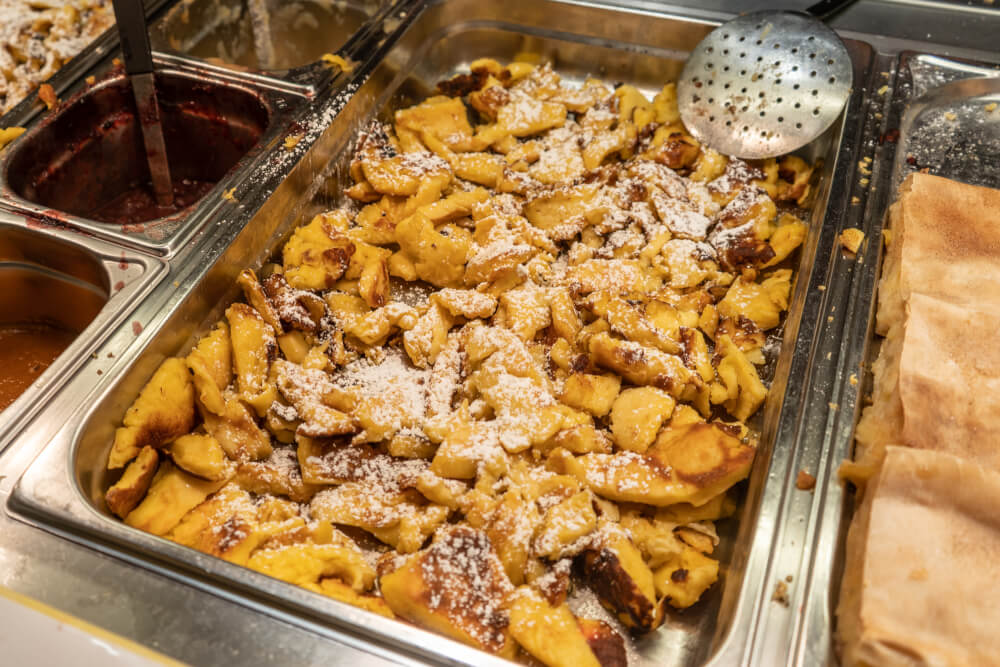 OPTION B: Sit-Down Fancy Oktoberfest Dinner Party
If you are planning your Oktoberfest party to be more of a sit-down dinner party affair, that's also a great idea. It might take some extra work but I'm sure your guests will thank you!
Again, click here for my full roundup of Oktoberfest recipes, but here are some ideas to get you started:
Starters: Pancake soup or a Bavarian appetizer platter with various cheeses, Obatzda, cold cuts, and soft pretzels
Mains: Roast pork knuckle with a side of potato dumplings, roasted chicken with fries, Käsespätzle with a green salad, roasted duck with red cabbage, or Bratwurst with sauerkraut + buns for an easy one
Desserts: Kaiserschmarrn, Dampfnudel, Bavarian cream, or Apple Strudel
6. Plan out your Oktoberfest party decorations
Now, it's time to ensure that your Oktoberfest party looks the part. As tough as it is to make a decision, you should decide right away what kind of vibe you're going for…
Are you throwing a fun Oktoberfest party like how your Pinterest board always imagined it, or are you emulating a more authentic Oktoberfest vibe that's closer to the real deal?
Pick one and let's grab the essentials! I summarize some options below, but you click here for my full in-depth guide to Oktoberfest party decor.
Option A: Go for cheesy, wonderfully Pinteresty Oktoberfest decor
This is the fun option that might be better if you're throwing an Oktoberfest party for lots of people, and especially those who have never been to the real thing before.
If your goal is an Oktoberfest party that's bright, colourful, fun and a little kitsch, here are some ideas:
If you want to be especially extra, you might also consider picking up:
Option B: Go for a more low-key "authentic" Oktoberfest feel that emulates the real deal
In contrast to the Oktoberfest parties you frequently see on Pinterest, real-life Oktoberfest decor is a lot more low-key… but it also varies a lot, since every tent likes to do their own thing.
Here's a list of all the big Oktoberfest tents so you can creep on what they look like inside. You'll see what I mean that each is different!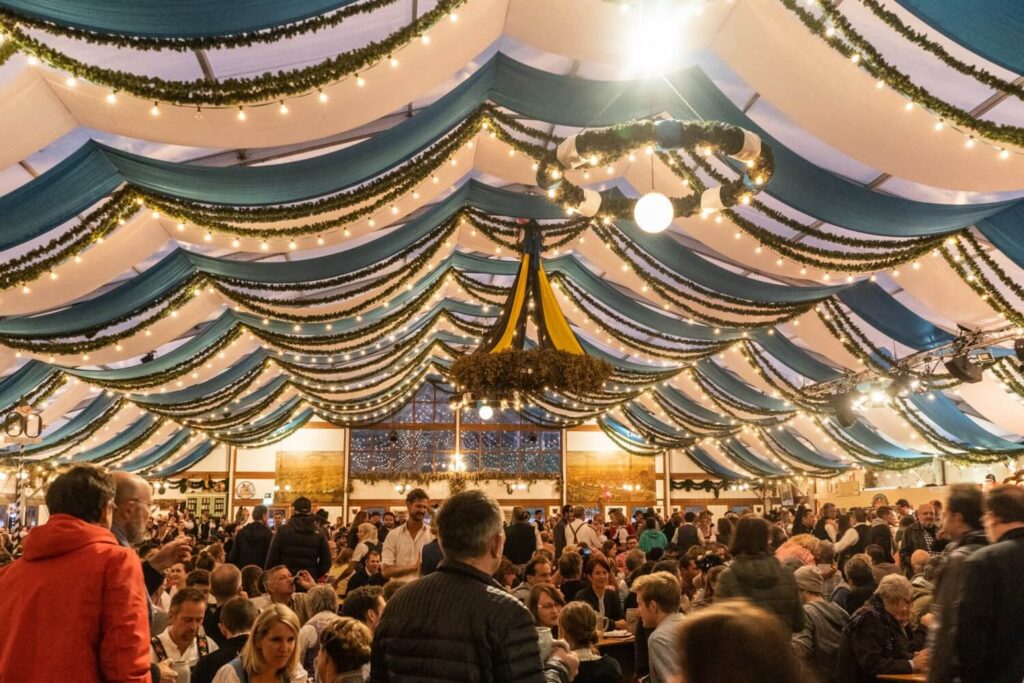 Here are some ideas if you really want to go all out with this style of Oktoberfest party: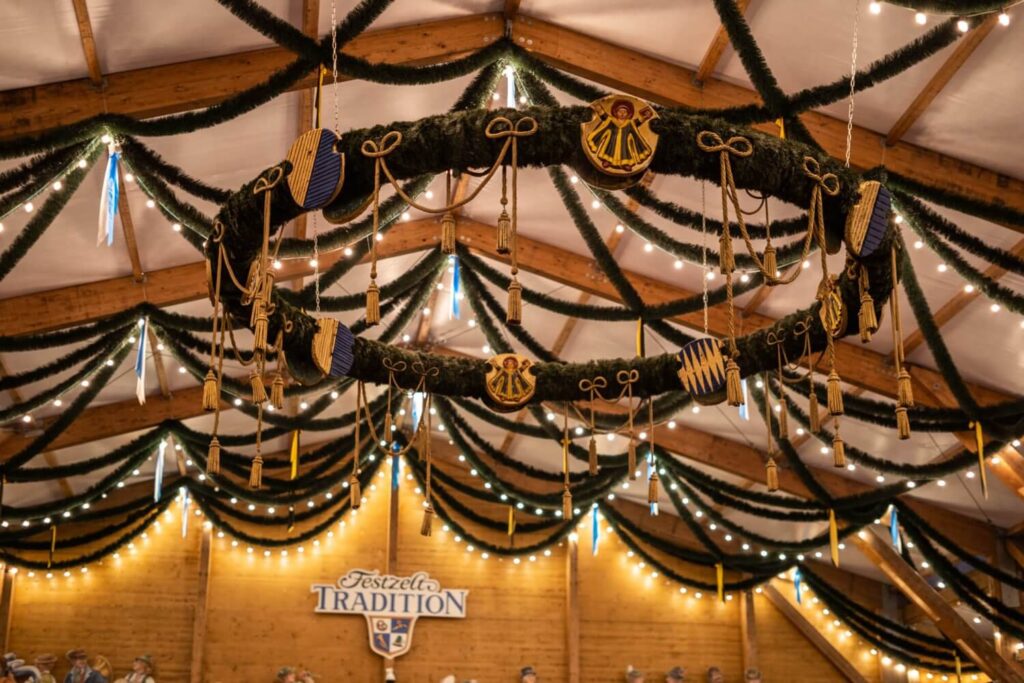 7. Prepare your Oktoberfest party favours
One of my favourite (most underrated) Oktoberfest party ideas is to ensure everyone leaves with a fun Oktoberfesty souvenir. This adorable touch will no doubt make your Oktoberfest party one to remember!
There are tons of options of fun things your guests will appreciate, but here are a few.
OPTION A: Fun Oktoberfest Glupperl
Wooden clothespins with special names/designs on them are a common sight at Oktoberfest. They're known locally as Glupperl, and make the perfect nametags/keepsakes for your Oktoberfest party.
While they're easy to DIY (more on this later), you can also order personalized ones off Etsy to make less work for yourself.
Click here to browse prices and reviews.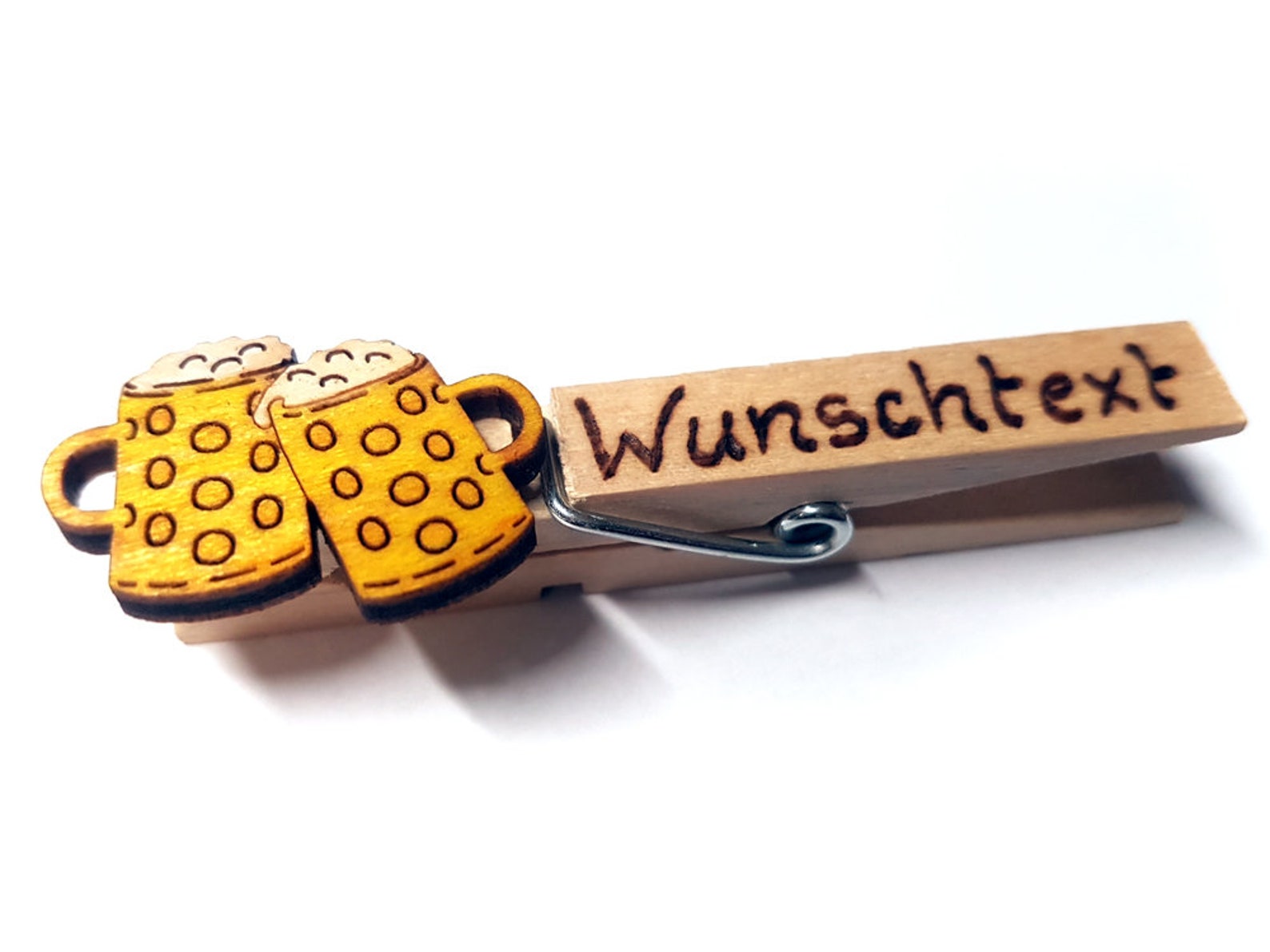 OPTION B: Gingerbread Heart Badges
Bavarian gingerbread hearts are an adorable sight that you'll find all around Oktoberfest. While they honestly (no exaggeration) taste like trash and are mainly for decorative purposes anyway, they make great souvenirs.
Finding authentic gingerbread hearts where you live might not be easy, but these pins are the next best thing, and a great party favour idea that will last for years to come!
Click here to browse prices and reviews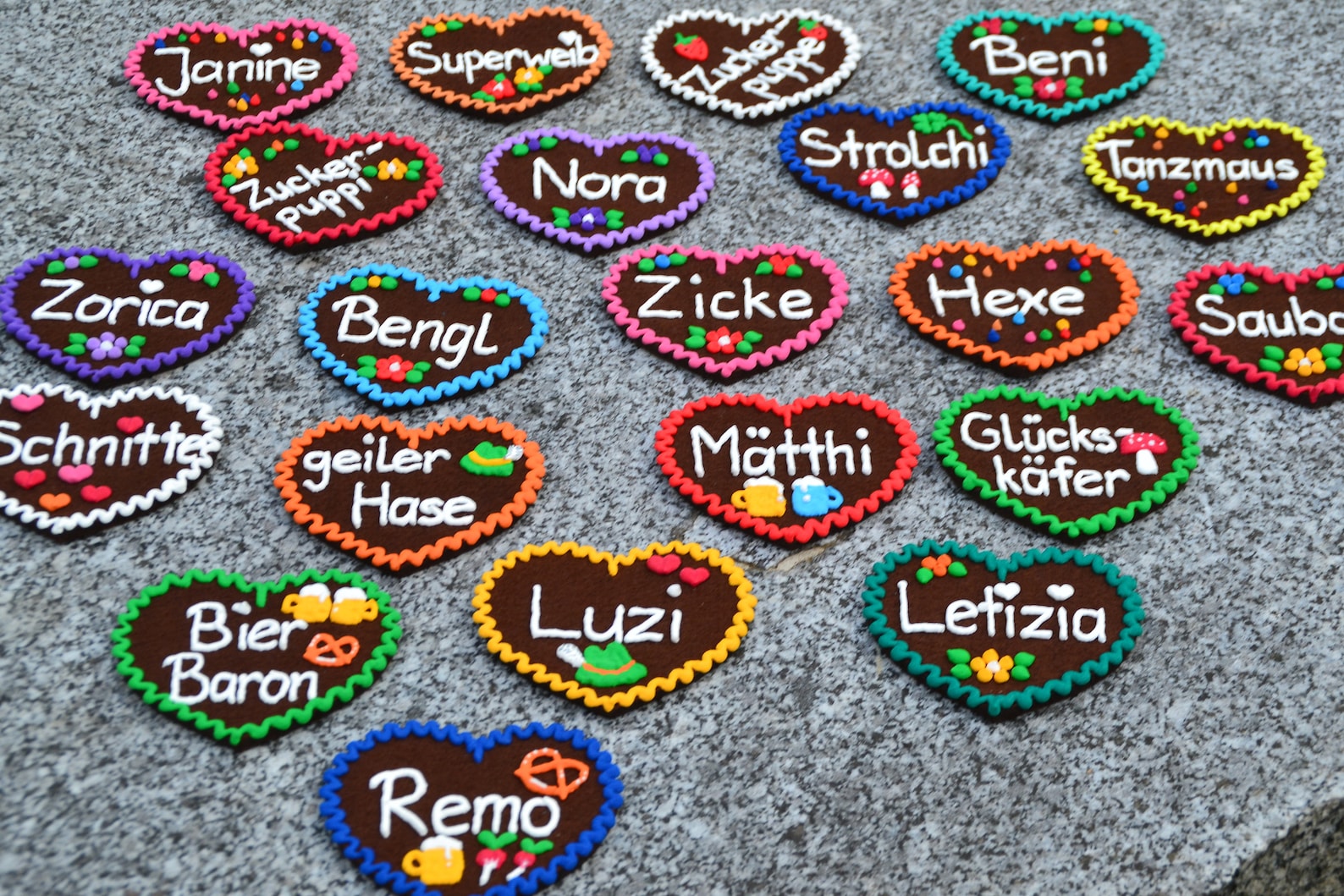 OPTION C: Oktoberfest Bracelets and Buttons
Looking for something a bit easier, but still cute? This set of bracelets and buttons is a really affordable way to get fun Oktoberfest party favours in bulk.
OPTION D: Dirndl and Lederhosen-Wearing Rubber Duckies
This idea might be a little "extra", but they're so cute I couldn't omit them from the list.
This set of party favours comes with rubber duckies wearing dirndls and lederhosen, as well as bonus stickers that you can combine into cute goodie bags for all your guests.
If you want to win some points for being party host of the year, make sure you take advantage of this Oktoberfest party idea!
DIY Oktoberfest Party Favour: Glupperl with Clothespins
Using a pack of regular wooden clothespins like these and a fine-tipped brown Sharpie like in this pack, you can easily create your own personalized Glupperl!
8. Pick out the perfect Oktoberfest outfit
You can click here for my full detailed guide on what to wear to Oktoberfest, but at a glance, your options are pretty simple.
Typical Oktoberfest outfits for women:
A dirndl w/ blouse and apron (I love Rare Dirndl for modern designs)
Ladyhosen like this if you're feeling bold!
Typical Oktoberfest outfits for men:
Lederhosen like this (with real leather, not weird fuzzy fabric like many of the costumed ones!)
Checkered shirt like this (or a plain white one)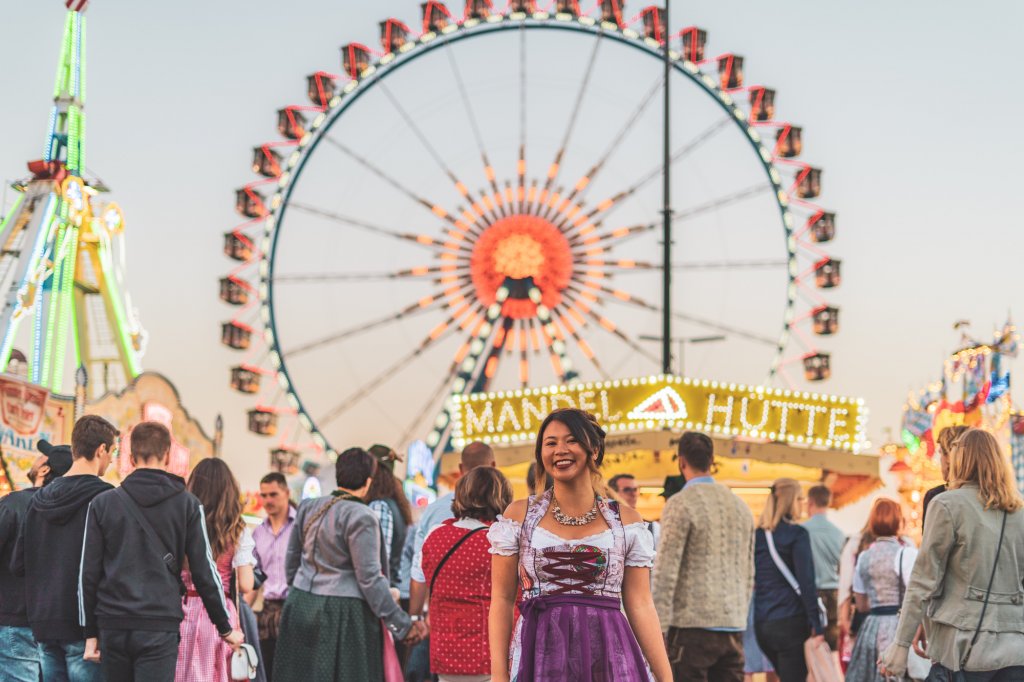 9. Plan out some fun Oktoberfest-inspired activities
There are tons of things to do at Oktoberfest besides drink – you can click here for my full list of Oktoberfest activities at the real festival.
But what if you can't commission a giant 85m swing ride? Or a giant spinning wheel that throws partyers off for no good reason?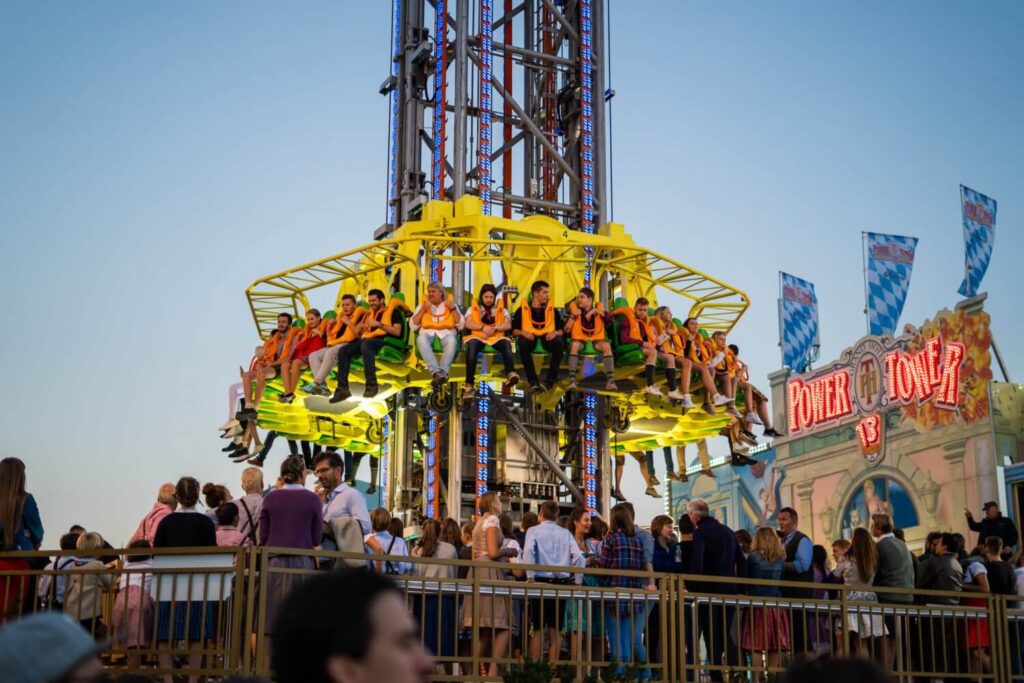 Here are some ideas for Oktoberfest party activities that you can do at home:
Oktoberfest blind beer tasting: This is an especially fun activity to run with beer snobs in the house. I've done this before, and the concept is simple: serve different beers and have people rank them and guess which ones they're drinking. I promise you they're wrong 90% of the time and you get to call them out on their beer wisdom BS. It's super fun.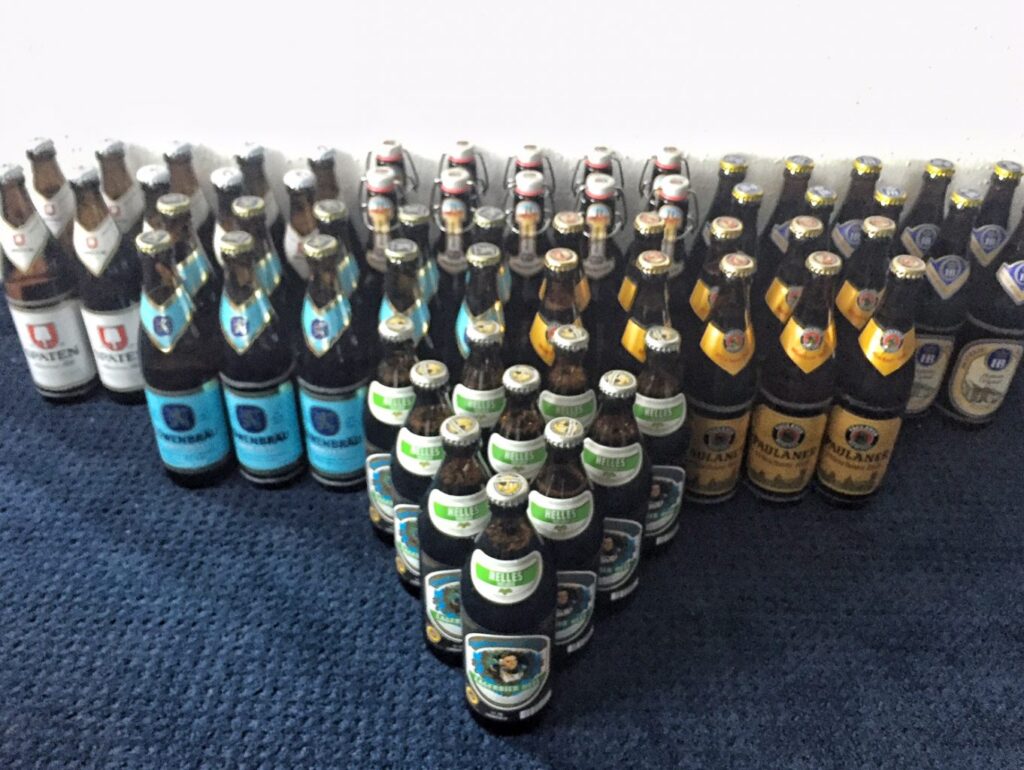 Play Flunkyball: Flunkyball is the best German drinking game ever. Here's a tutorial on how it works. NOTE: This will only work if you have plenty of yard space, but it's a great way to escape the usual Beer Pong and Flip Cup games for something more um… cultured.
An Oktoberfest photo booth: This is something you would NEVER find at the real Munich Oktoberfest but let's be honest: that whole thing is a giant photo booth in itself, except people wear their "props" all day and the backdrops are real. Just as photo booths make every awkward wedding more tolerable, they make every party more fun. Here is a funny backdrop you can buy and here are some props if you want to do it more DIY.
Learning classic Oktoberfest songs and dances: This would be a really fun activity with kids! There is one song in particular called FLIEGERLIED that is played in EVERY tent ALL the time and the dance is very fun and easy to learn. Here's a tutorial for it!
Do relay races with your Maß: This could get messy quickly, but a fun idea would be to set up a race course in your backyard and have teams race to see who can go the quickest (while spilling the least amount of beer!) If you want to raise the stakes, you can also try to see who can carry the most Maß at once. The current world record is a whopping 29 (click here to see a video).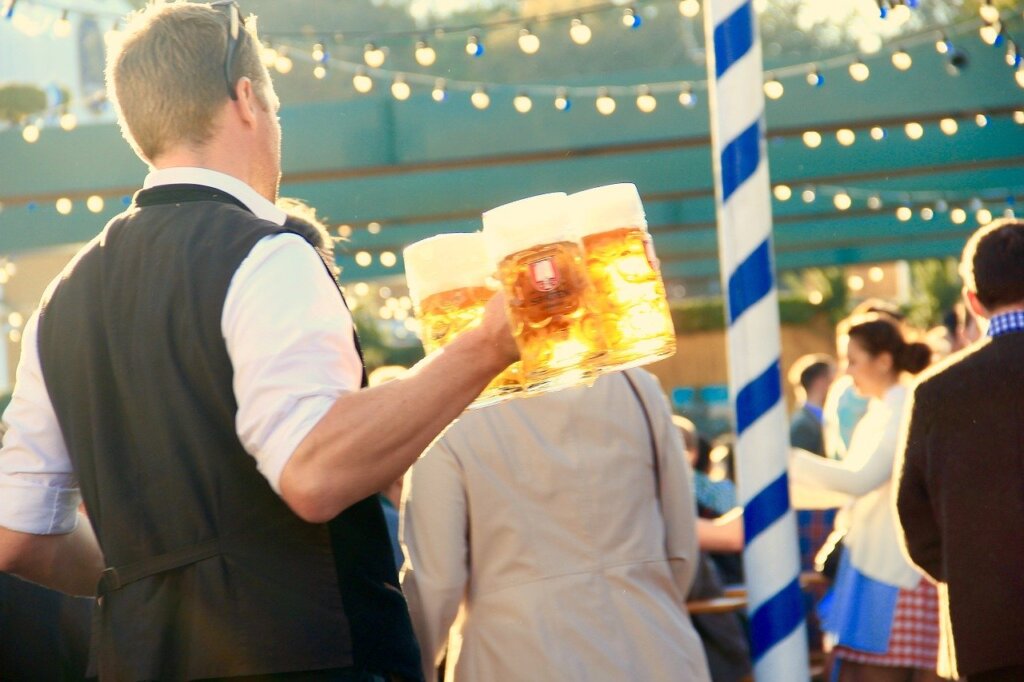 Host "Oktoberfest Awards": If you're down to buy prizes (some nice Maßkreug like this might work well!), then you should definitely host an Awards portion of your party. Think awarding prizes for categories like "Best Dressed", "Fastest Chugger", "Quickest Bratwurst Eater", etc. This would be a fun way to bring out everyone's competitive side, and ensure that everyone dresses the part!
Gingerbread heart decorating: If you bake up a bunch of Oktoberfest gingerbread hearts in advance (here's a recipe from the official Oktoberfest site) and buy different frosting tubes like these (or prep your own), then you have an easy and fun activity that everyone can participate in, even the little ones.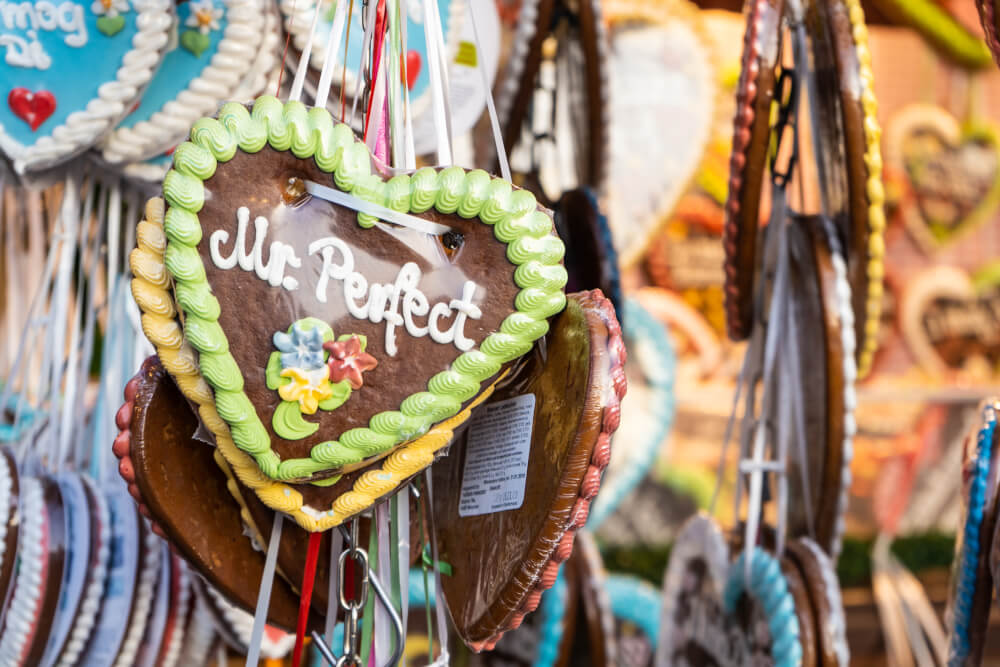 Karaoke: ah old reliable! If you still don't know what to do at your Oktoberfest party, why not set up some karaoke? The catch is though you should only let people choose from popular Oktoberfest songs. Don't worry, they love love love Sweet Caroline over here.
10. Party and enjoy!
Alright, all the Oktoberfest party planning is done… now it's time for you to enjoy yourself. Be sure to take lots of photos to remember all your hard work, and feel free to refer to this list of truly cheesy Oktoberfest puns if you need a good caption.
A Prost (that's cheers BTW) to the host with the most!