This post originally appeared on Happy to Wander.
If you're hangry for the ultimate guide on easy yet delicious Oktoberfest recipes to try at home, you're in luck!
Planning an Oktoberfest party is stressful business, and figuring out what to serve is the wurst.
But don't worry – I'm here to help. As a Munich local and shameless Oktoberfest fangirl, I've been conducting plenty of "research" over the past 5 years on the best things to eat at Oktoberfest… and I'm here today with plenty of tips on how to replicate this goodness from home.
To make your life easier, I've assembled a comprehensive list of the best Oktoberfest appetizers, side dishes, main courses, and desserts, so you can pay homage to the glory of Oktoberfest from the comfort of home. Get ready to drool.
BONUS: If you're looking for vegan and vegetarian Oktoberfest recipes, be sure to scroll to the bottom for a selection of plant-based Oktoberfest dishes! For more inspo and tips, check out my full Oktoberfest party planning guide.
A Quick Note on Oktoberfest Recipes Online
Allow me two seconds on my 'Munich local' soapbox before we start. I just want to note that there is usually a huge difference between the Oktoberfest recipes you find online, and the "authentic" dishes they serve at the real Oktoberfest.
If your goal is to emulate the real deal, here is an article summarizing common foods you'll find at the actual Oktoberfest in Munich.
But hey, (I might need to whisper it in case any Bavarians overhear me)… authenticity isn't always best.
Depending on where you live, and of course on the palettes of your guest, sourcing limp white sausages and liver dumplings might not be the ideal "vibe" for your Oktoberfest party, and that's okay! The Internet is a treasure trove of Oktoberfest-inspired recipes that will be just suitable for your Oktoberfest party menu.
So, below, I've included recipes from both categories: authentic Oktoberfest recipes that you would find at the real festival, as well as Oktoberfest-inspired recipes that are easy to make and guaranteed crowd-pleasers. I hope you can combine all these ideas into the perfect Oktoberfeast!
Yummy Oktoberfest Party Appetizers
Below are some recipes for appetizers that will start your Oktoberfeast off right! If you're left drooling after reading through all of these recipes, don't worry– we're really just getting started.
Ranging from traditional soft pretzels with Obatzda to fun Oktoberfesty fondue, I've got you covered for all the best appetizers for your Oktoberfest home party, whether you're after authentic recipes or simply something festive and tasty.
Looking for more starter ideas? I have an even bigger list of tasty Oktoberfest appetizers here, complete with many authentic recipes and ideas.
German-Style Soft Pretzels
We have to start with an Oktoberfest classic: soft pretzels (or Brezel/Brez'n/Brezeln, as they're known around here). Yes, German is a confusing language.
But anyways, back to the doughy goods. You really can't have Oktoberfest without giant pretzels!
You should know, though, the soft pretzels beloved in North America are a bit different from the ones commonly served at Oktoberfest. American-style pretzels are usually softer, more buttery, and best served warm, whereas German-style pretzels tend to have a harder, salt-studded crust and a more neutral flavour (perfect for pairing with dips!)
… If you want to go for more of an authentic recipe, these homemade German pretzels are much easier than you think. Plus, they're perfect when paired with that delicious Hofbräu bier (or any Bavarian beer of your choice).
Click here for the recipe!
For soft pretzels that are perfectly golden on the outside, yet fluffy and tender on the inside (a bit more similar to American style soft pretzels), you can also check out this tasty recipe from Bake or Bust.
They're perfect on their own, or of course paired with your favourite cheese dip or condiment for extra zing!
Click here for the recipe.
Obatzda
For the ultimate authentic Oktoberfest appetizer that's also super easy to make at home, consider whipping up a batch of Obatzda.
Obatzda is a Bavarian spread made with soft cheese, butter, paprika, and spices (the exact mix of which course depends on how your Oma used to make it). In Bavaria, Obatzda is every pretzel's BFF, so you need this to be party of your Oktoberfest menu no matter what!
Here's a recipe for it.
A Traditional Bavarian "Brotzeit" Platter
Brotzeit platters are epic no non-sense charcuterie platters that include various meats, spreads, pickles, radishes, onions, cheese, and other goodies. Paired with some soft pretzels and bread, this is a go-to appetizer seen on every Oktoberfest menu in Munich.
P.S.: "Brotzeit" literally translates to bread time. Isn't that fun?
I have more ideas in my full Oktoberfest appetizers post here, but generally speaking, these are some things you can include in your Brotzeit platter:
Bauernbrot: a Rye sourdough bread, preferably seasoned w/ caraway seeds
Hams and cold cuts
Sliced Bavarian cheese
Radishes, gherkins, tomatoes
"Potato cheese," a potato spread (Kartoffelkäse)
Obatzda (duh!)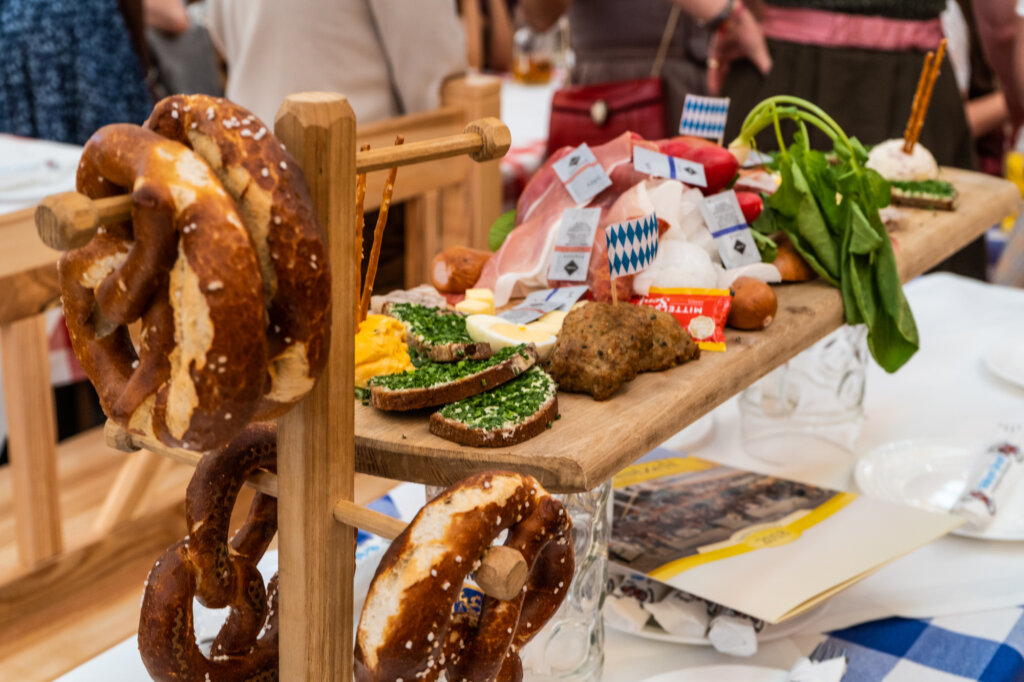 American-Style Soft Pretzels
Of course, if you're feeding an army of soft pretzel lovers, maybe it's safer to stick with the style that your guests love best.
As I previously mentioned, American-style soft pretzels tend to be a bit softer and more buttery than their Bavarian counterparts. Between you and me, I actually prefer American-style pretzels.
Luckily, they're also very easy to make at home!
For a buttery and salty soft pretzel, check out this recipe from Lemon Blossoms. They're SO easy to make, you won't just want to make them for your Oktoberfest party! There's a great recipe for cheesy beer dip, too.
Click here for the recipe.
German Potato Soup
Soup is a very common Oktoberfest starter. I've outlined some typical Bavarian soups they tend to serve at Oktoberfest in this post.
But if you're looking for a definite crowd-pleaser that doesn't involve pancakes or liver (yes, that's what the authentic soups are like), then bring back memories of Grandma's German kitchen with this thick and creamy soup recipe from Simply Stacie!
It's packed full of tender potatoes, onions, celery, and savory goodness. Click here for the recipe!
Pigs in a Blanket (with Beer Cheese Dip!)
Looking for an Oktoberfest-themed appetizer that will no doubt be a crowd favourite?
This delicious Oktoberfest-esque dish features both beer and cheddarwurst sausage, so it's a great little appetizer that's easy to make and fun to enjoy. And c'mon, who wouldn't want to dunk those piggies into a delicious beer cheese dip?!
Click here for the recipe!
Sausage Salad (Wurstsalat)
You might not be surprised to learn that one of the most common salads served in Bavaria (and at the real Oktoberfest) is actually a sausage salad (AKA Wurstsalat).
Yup, this tart "salad" is made with sliced sausages, vinegar, oil, and onions. As a bonus, it's a super easy Oktoberfest recipe you can make at home!
Here is a recipe you can follow.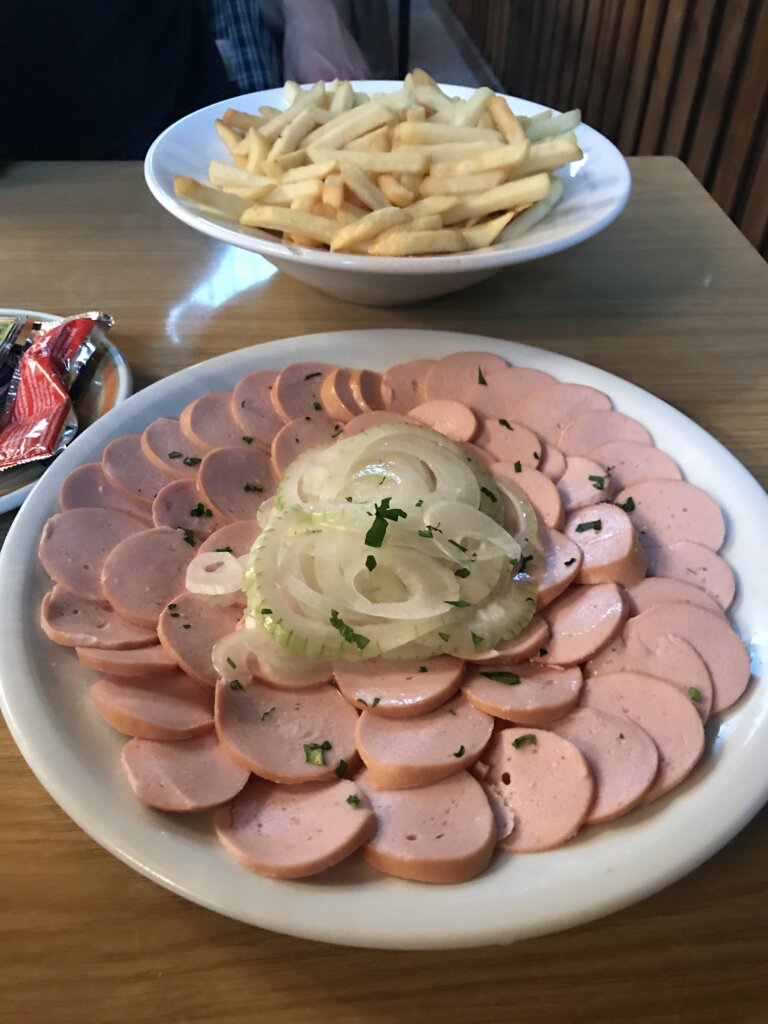 Mustard Cheese Fondue
Mustard is a staple of Bavarian cuisine (especially sweet mustard!), but if you're struggling with finding ways to serve it, why not mix it up with a cheesy fondue?
If you're looking for a way to bring some Oktoberfest flavour to the comforts of home, try this mustard cheese fondue, which only requires five ingredients– and it pairs beautifully with bratwurst or apple slices!
Click here for the recipe!
Pretzel Bites
Looking for a snackable twist on a classic Oktoberfest appetizer? Add these pretzel bites to your Oktoberfest party menu, and you'll be the hero of the evening!
These adorable snacks are truly addictive, and even small enough for the little ones to enjoy. One bite of these and you'll realize that love is all you 'knead'!
Click here for the recipe!
Soft Pretzel Sticks
Another Oktoberfest appetizer that's perfect for dipping? Pretzel sticks!
These soft pretzel sticks are homemade, soft, and chewy. They're great by themselves or served with fun dips, like honey mustard! Click here for the recipe!
Runzas
Lastly, while Runzas are actually American, they make a tasty handheld appetizer that's perfect for the Oktoberfest mood. This crowd favourite may not be featured on usual Oktoberfest menus, but they make for the perfect handheld snack with Oktoberfesty flavours.
If you've never heard of them before, Runzas are easy-to-make homemade yeast buns stuffed with ground meat, cabbage, and, in this case, CHEESE! Make plenty, since they freeze well and are an easy lunch or dinner idea. Click here for the recipe!
Oktoberfest Side Dish Recipes
Now that we've teased you enough with our list of scrumptious Oktoberfest appetizers, here are some festive ideas for side dishes! Some of them are even quite healthy (gasp!), but remember not to get full off of these, for we still have to reveal the Oktoberfest main courses!
Sauerkraut
Sauerkraut is a German side that requires zero introduction, and yes, they do love it at Oktoberfest as well, usually with some roast pork knuckle in gravy.
If you're looking to make this classic Oktoberfest recipe, believe it or not, you can easily make sauerkraut at home!
All you need is salt, cabbage, carrots, and some time to lacto-ferment it! It's highly refreshing and very delicious, especially when paired with bratwurst. Click here for the recipe from Earth, Food & Fire.
Rotkohl (Braised German Red Cabbage)
Another very common side dish at Oktoberfest (and across Bavaria in general) is Rotkohl (braised German red cabbage). You'll often find it served with roasted meats like duck and pork (both Oktoberfest specialties), but it tastes great as a complement to Bratwurst, too.
This Rotkohl recipe from Dish 'n' the Kitchen is flavoured with a sweet n' sour kick to really entice your taste buds. Click here for the recipe!
Gurkensalat (Cucumber Salad)
While salads aren't usually what people come for at Oktoberfest, another common one besides the aforementioned sausage salad is a simple Gurkensalat, often used to balance out super cheesy dishes like Käsespätzle.
This simple, classic recipe from Strength and Sunshine is an old-fashioned cucumber salad, reminiscent to what Grandma used to make, and it's super simple– just thinly sliced cucumber and onions, chilled and marinated in a sweet vinegar base.
It's a healthy and delicious gluten-free, vegan, paleo, and allergy-free recipe for any gathering! Click here for the recipe!
German Potato Salad
Kartoffelsalat (potato salad) is a common side dish at Oktoberfest that's typically served next to a roast chicken or schnitzel. Luckily, it's a super easy side dish that you can whip up at home!
This traditional, warm German potato salad recipe from The Winged Fork is made with tender potatoes, crispy bacon, cooked onions, and tangy mustard vinaigrette and would be perfect on any Oktoberfest food menu!
It's just as comforting as the creamy, mayo-based versions, so everyone will love this unique take on potato salad. Click here for the recipe!
Potato Dumplings (Kartoffelknödel)
In the gluttonous world of Oktoberfest dishes, you can think of Kartoffelknödel (also known as Kartoffelkloß) as the trusty sidekick.
Usually found swimming in gravy next to roasted pork or duck, these gelatinous and wiggly dumplings are (admittedly) an acquired taste, but those who love them love them fiercely, and I proudly count myself as part of this camp! In fact, I consider them one of the yummiest types of dumplings in the world.
Here is a recipe on making them yourself.
Not into gelatinous potato? Semmelknödel (bread dumplings) are also popular. Here's a recipe.
Spaetzle (German Pasta Dumpling)
With just five ingredients, Spaetzle is a German pasta dumpling that can literally be prepared in just 10 minutes, and is a great side dish for other Oktoberfest meals.
In Bavaria, you'll often see it as a side dish to complement creamy mushrooms or pork medallions, while at Oktoberfest, the most common iteration of it is as a main course tossed with plenty of cheese!
Click here for a super easy Spaetzle recipe from Chisel & Fork.
Homemade Applesauce
Bavarians LOVE applesauce. Often, you'll find it slathered on crispy potato pancakes (more of a Christmas market food than an Oktoberfest one, but tasty nonetheless), or as a side to Kaiserschmarrn, a wonderful dessert we'll talk about later.
But hey, applesauce is amazing with a lot more than just those dishes.
So, if you feel like you should add some apple goodness to your roster of Oktoberfest side dishes, this easy homemade applesauce from Fluxing Well is a delicious condiment to accompany bratwurst or any main dish we list below. Click here for the recipe!
Speckbohnen
Lastly, for a tasty side of veggies (what even are those?) with a German twist, give Speckbohnen a try!
While cooked vegetables aren't commonly seen around Oktoberfest (this is a huge gripe of mine), sometimes a warm veggie side dish is just what you need to complete a meal.
Well, Speckbohnen are a traditional German way of preparing green beans that are simple yet scrumptious. They're a tasty dish found in Oma's kitchens across Germany, and certainly worth making at home!
Click here for the recipe.
Oktoberfest Main Course Ideas
Alas, the section we've all been waiting for – the recipes with the BIGGEST PORTIONS! You'll find a vast array of Oktoberfest main course recipes here, including some super easy instant pot/slow cooker ones as well.
Whether you're planning an Oktoberfest party or just want to get in the German holiday spirit, read on for some great inspo to get your butt in gear and into the kitchen!
Oktoberfest Roast Chicken (Wiesnhendl)
Yes, this is a dish SO synonymous with Oktoberfest, that even in German, "Oktoberfest" is in the name.
Fun fact: locals refer to Oktoberfest as the Wiesn.
If you're going for authenticity, nothing screams "Oktoberfest" more than plopping down a roast chicken that your guests can rip at with their bare hands. All the better if they are very, very drunk when this happens.
While I won't blame you for just grabbing some rotisserie chickens from Costco and calling it a day, there are tons of recipes you can follow to create an authentic Wiesnhendl for yourself at home. Here is one from Dirndl Kitchen.
Roasted Pork Knuckle (AKA Schweinshaxe)
Another dish that is quintessentially Bavarian is roasted pork knuckle, known locally as Schweinshaxe. This juicy slab of pork is usually served with a beer gravy and wiggly potato dumplings, along with plenty of crispy skin roasted to perfection.
It's one of my favourite dishes on this Earth, and I highly recommend you make it for your Oktoberfest party if you want the most impressive main course possible!
For an authentic recipe, check out this page put together by the Bavarian government that helps people celebrate Volksfest fun at home.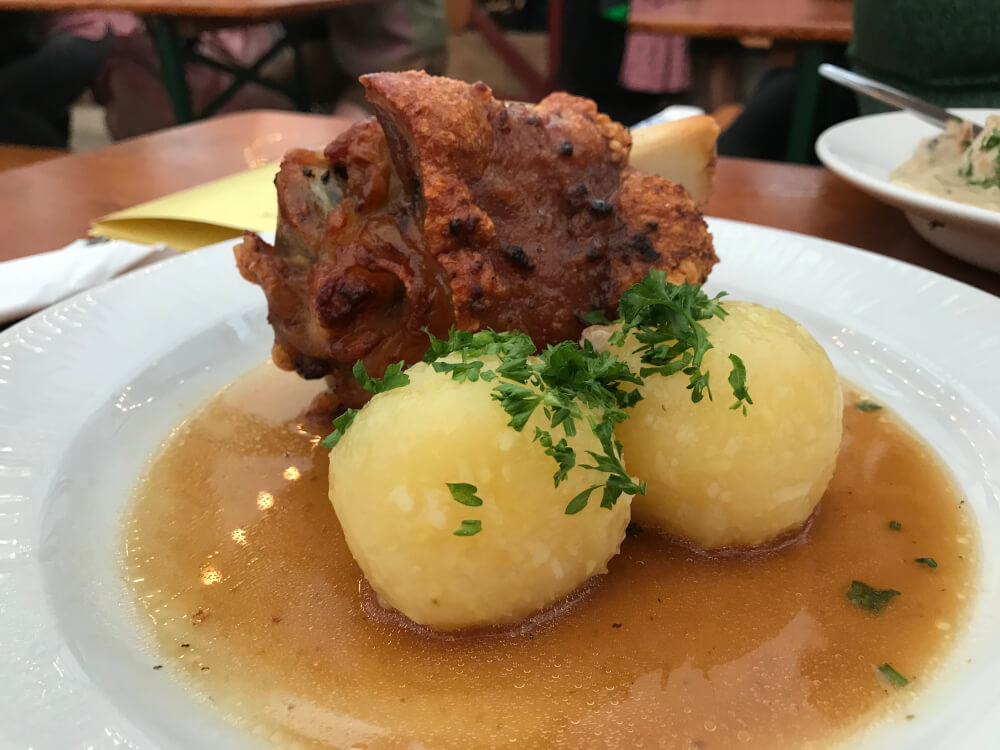 Pork Roast (Schweinsbraten)
If pork knuckles sound daunting to you, perhaps an easier (but very similar dish) to serve would be Schweinsbraten, which is pork roast… also drenched in gravy and served with potato dumplings.
Here's a recipe you can follow. It's in German, but use Google Translate to help!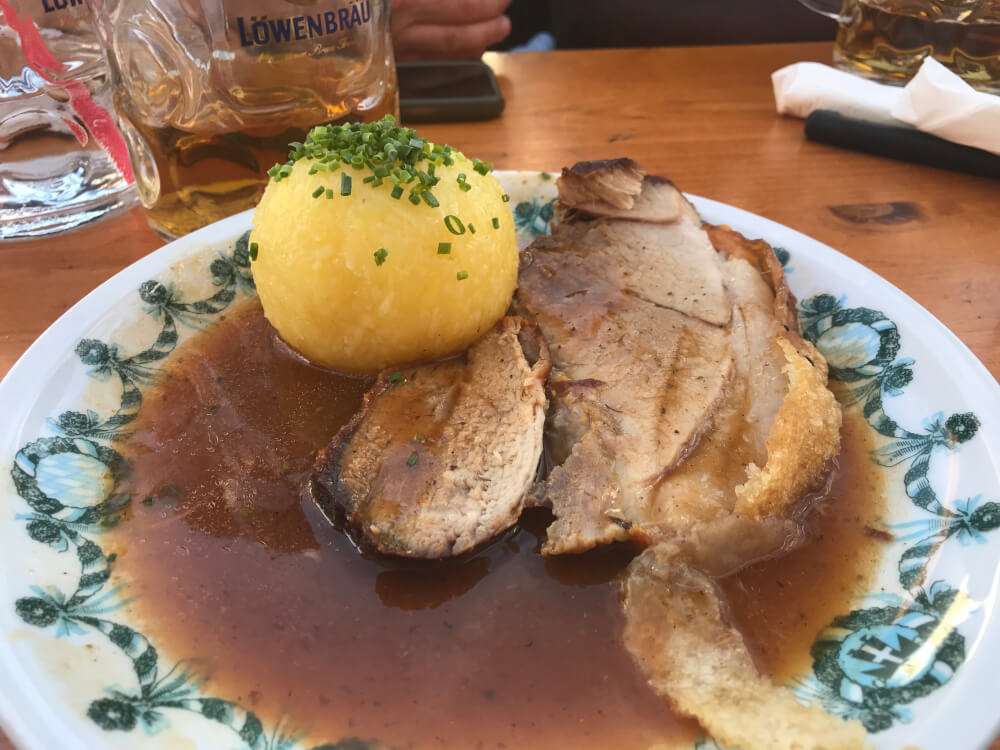 Käsespätzle
While options are improving every year for vegetarians at Oktoberfest, it's still safe to say that veggie options are… limited.
One of the most delicious Oktoberfest main courses that are veggie-friendly is the almighty Käsespätzle, a sort of Bavarian mac and cheese that consists of bouncy little dumplings, fried onions, and loads of alpine cheese.
Trust me, this is not just a tasty option for vegetarians, this is one of the best Oktoberfest foods period.
Here is an official government-approved recipe in German.
Spaetzle Fried in Butter
Not fond of cheese? First of all – how dare you?
Second of all, there are other options!
For another take on Spaetzle, try this recipe from Two-Bit Tart, which features those traditional German dumplings fried crisp in butter. Click here for the recipe!
Schweineschnitzel
It wouldn't be a proper Oktoberfest without schnitzel!
And while the schnitzels most commonly eaten at Oktoberfest are "Wienerschnitzel" (translation: schnitzel in the Viennese style made with veal), you really can't go wrong with a fried slab of goodness, whether you choose pork or poultry as the base… or even a vegan version.
To make this Oktoberfest delight at home with a pork base, try Pink Fortitude's recipe for a pretzel pork schnitzel.
BONUS: It's also gluten and dairy-free! How about some Hofbräuhaus cheers to that? Click here for the recipe!
Chicken Schnitzel
Not a fan of pork, or just looking to enjoy your schnitzel with a different meat base?
If that's the case, you should definitely try this Chicken Schnitzel from Chisel & Fork. It's an Oktoberfest FAVE, so you're bound to have fun making this! Click here for the recipe!
Instant Pot Sauerbraten
Sauerbraten is a marinated meat dish that's beloved across Germany. At Oktoberfest, you'll usually find it with a side of potato dumplings and red cabbage.
And while the main draw of Sauerbraten is that it's marinated forever, this Sauerbraten recipe from Lemon Blossoms is made quickly in your instant pot/pressure cooker, so it's great for those busy workaholics!
Enjoy the robust taste of this traditional German pot roast without having to marinate the meat for days. Plus, with your handy instant pot, the flavor is sealed in a fraction of the time!
Click here for the recipe to use at your next Oktoberfest shindig!
Here is another slow cooker version of Sauerbraten from Love Bakes Good Cakes that is more stew-like – perfect for serving over spaetzle or egg noodles! Plus, there's a magical secret ingredient: ginger snaps!
Click here for the recipe.
Oktoberfest Burger
Alright, if you're looking for an easy crowdpleaser for your Oktoberfest party, then here's an idea: Oktoberfest-inspired burgers!
This recipe is so un'burger'lievable, you'll want to recycle it for all your parties, and not just for that Oktoberfest time of year!
This is an easy burger recipe with pork, pretzels, beer, mustard, and onions that will leave you thinking, "You're the only 'bun' for me." Click here for the recipe!
Beer Brats
Brats are a staple on any Oktoberfest dinner menu!
And while sausages are a surprisingly complicated affair (I explain some common Oktoberfest sausage types in this post), you don't necessarily need to become a certified Sausage Expert to conquer your Oktoberfest party menu.
So let's go with a sure crowd pleaser: beers and brats! This recipe from Cheese Curd in Paradise shows you how to simmer brats in beer with thinly sliced onions, then add the finishing touches on the grill. No fancy seasoning mixes needed! Click here for the recipe!
Sausage, Potato, and Sauerkraut Skillet
If you want your taste buds to feel like they've been punched in the face with Oktoberfest, then why not combine some Oktoberfest classics into a single skillet meal?
In this recipe by Bitz 'n' Giggles, kielbasa, potatoes, and cola-infused sauerkraut create a winning combination for a traditional and comforting skillet meal for your Oktoberfest festivities at home.
Click here for the recipe!
Crock Pot Corned Beef & Cabbage
While not a conventional dish served at Oktoberfest, you can't go wrong with corned beef & cabbage if your goal is to feed the masses and keep them satisfied throughout your Oktoberfestivities.
And even better, in this recipe from Eating on a Dime, you can learn how to make a tasty corned beef and cabbage dish… with a slow cooker! With all the flavor from this dish, your mouth will definitely be watering for more.
Click here for the recipe!
Apple-Bacon Pancake
For the perfect fall treat that combines sweet and savoury, why not make an apple-bacon pancake?
Perfect for any Oktoberfest breakfast or brunch, this dish from MyChefsApron is reminiscent of a German apple pancake, but with buckwheat flour and crispy bacon.
You might enjoy it so much, you'll always be 'bacon' time to make it! Click here for the recipe!
Bratwurst Skillet with Apples and Vegetables
When you think of Oktoberfest, you think of beer and bratwurst, right?
Well, why not combine that all to make one tasty Oktoberfest-inspired meal, all in ONE dish?
This easy-to-make bratwurst skillet with apples and vegetables is ready in under 30 minutes and is perfect for celebrating Oktoberfest at home.
Click here for the recipe from The Purple Pumpkin Blog.
Smoked Chicken Sausage and Roasted Vegetables
If there's one pet peeve of mine with authentic Bavarian cuisine, it's that roasted veggies don't feature on a lot of menus (unless it's asparagus season!). If you want veggies, they'll usually come in a salad.
If you're like me and feel similarly passionate about your vegetables being hot, then here's a nutritious addition to your Oktoberfest spread that's still festive, thanks to the 'wurst' guest star: whip up this smoked chicken sausage with roasted vegetables in just 30 minutes tops! Click here for the recipe!
Oktoberfest Desserts
Finally, an Oktoberfest party wouldn't be complete without indulging your inner sweet tooth. Go ahead, spoil yourself with these recipes– on vacation, calories don't count, so why should they in YOUR DIY Oktoberfest party, right?
With these recipes, you'll never want to 'dessert' the table and just might start having some of these for breakfast the morning after!
Have a sweet tooth? Check out a more comprehensive list of Oktoberfest desserts here, including authentic Bavarian cake/pastry ideas.
Dampfnudel (German Sweet Dumplings)
These sweet dumplings with vanilla sauce are a traditional Bavarian dessert that are sure to be a big hit at the end of your Oktoberfest party! They're also one of the most beloved sweets they serve at Oktoberfest.
Similar to a fluffy sweet bread, these will melt in your mouth and offer you nothing but comforting deliciousness. Click here for the recipe!
Kaiserschmarrn
One of my personal favourite Oktoberfest desserts is Kaiserschmarrn, which are shredded pancakes tossed in powdered sugar, and often served with a side of applesauce, plum puree, or if you're lucky: ice cream!
Best of all, this is a dessert that's super easy to make a huge batch of – perfect for those large dinner parties.
Here's an easy recipe to follow.
Apfelkücherl
Another authentic pick for Oktoberfest dessert? I know many people think "strudel" is the way to go, but actuall, Apfelkücherl are an excellent choice too.
Think of them as little apple fritters consisting of sliced apples dipped in batter and deep fried. They're super popular at Oktoberfest (and I don't just mean with me).
Here's a recipe to make your own.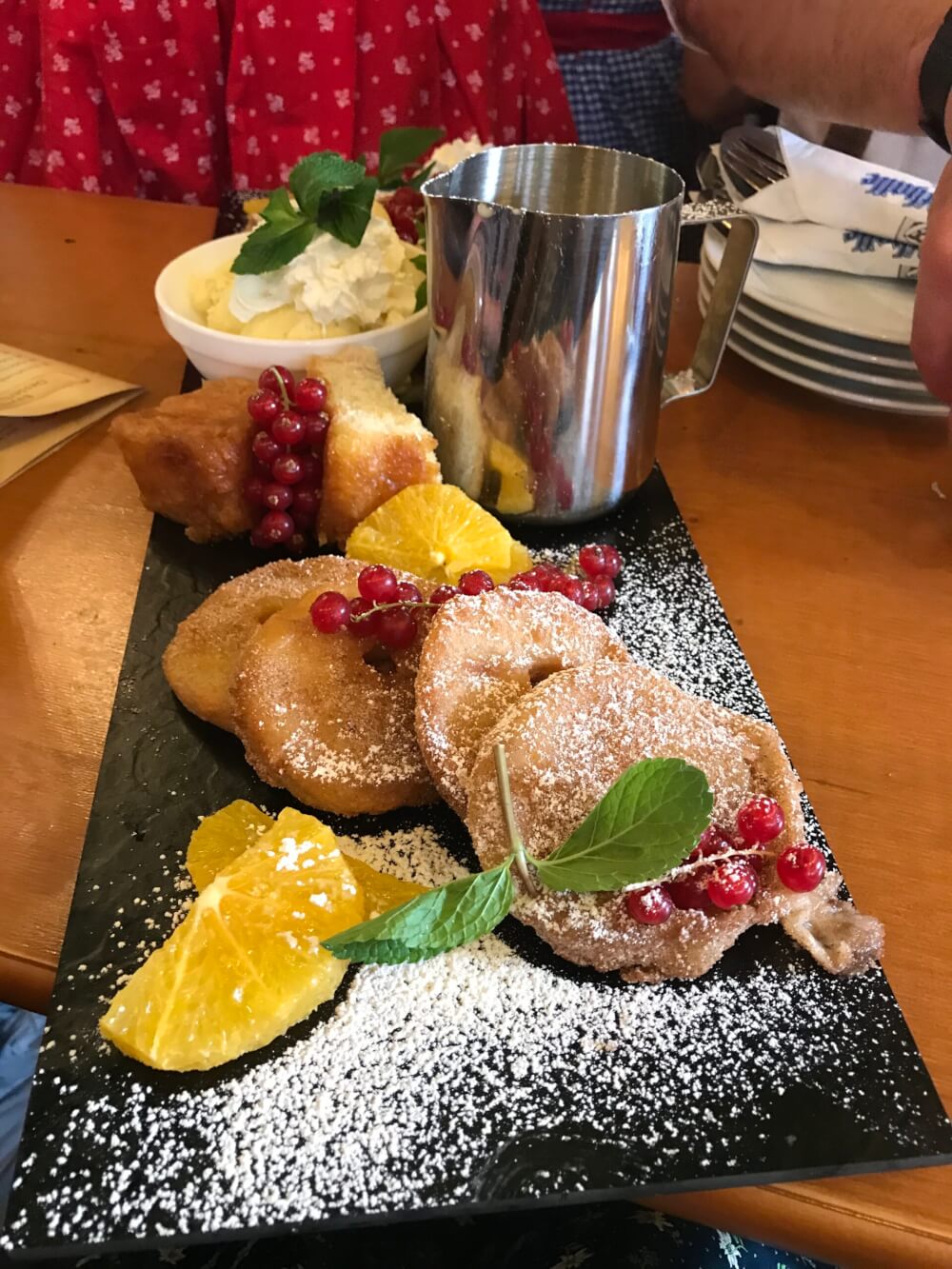 German Chocolate Fudge
End your Oktoberfest party with a sweet treat: German chocolate fudge! This easy recipe is topped with an ooey-gooey coconut-pecan frosting that will truly astound your guests. Click here for the recipe!
Vegan Oktoberfest Dishes
We understand that it can be hard for some to enjoy these tasty Oktoberfest dishes if they follow a strict vegan diet. Don't worry, we've got you covered! Live on the 'veg' with these delicious vegan dishes that you can serve at your next Oktoberfest party.
And guess what? Chances are, half of your guests won't even taste the difference between these versions and the real thing. They're that tasty!
Vegan Sauerkraut
Looking for a vegan sauerkraut for your Oktoberfest menu?
This recipe from Strength & Sunshine shows an easy way to make homemade vegan sauerkraut that is not only delicious, but also a powerful "magic medicine" for improved gut health. It's the perfect idea for a quick Oktoberfest side dish! Click here for the recipe.
Vegan Cabbage"Schnitzel"
Surprisingly, one of the best vegan Oktoberfest dishes you can create at home is a vegan take on Schnitzel!
I've had many soy-based schnitzels here in Germany, that (when prepared with the right sauce) taste almost exactly like the real thing. If you can find yourself some vegan schnitzels at the supermarket, this would be ideal for saving time.
If, however, you want a way to veganize schnitzel from scratch for your Oktoberfest party, here is a recipe for a schnitzel made of cabbage!
Vegan Sauerbraten w/ Spätzle and Red Cabbage
If you're looking for a vegan version of a truly authentic Oktoberfest dish, then this recipe for Vegan Sauerbraten with Spätzle and Red Cabbage is a must! This plant-based Oktoberfest alternative uses seitan in place of beef, with tasty sides that combine for the ultimate vegan Oktoberfeast.
Click here for the recipe. It's in German, but Google Translate can help you out with that.
Vegan Goat Cheese
This easy vegan goat cheese recipe from Natural Goodness is ideal for those great vegan charcuterie boards in Oktoberfest!
If you're looking to add some vegan alternatives to add to your Oktoberfest spread, this would undoubtedly be a crowd-pleaser – easy to make, healthy (ish), and ready in a breeze!
It also has two options: a creamy version and a log, solid version. Click here for the recipe.
Vegan German Potato Salad
Looking for the best German potato salad recipe, just like the one Grandma used to make?
This is the vinegar-based potato salad you love, but without bacon… and it's vegan, gluten-free, paleo, and allergy-free! Served warm or cold, this easy Oktoberfest side dish still packs all the zesty & smokey flavor with the help of homemade coconut bacon. Click here for the recipe!
Vegan Broccoli, Cheese, and Potato Soup
While not a conventional Oktoberfest dish, this creamy, comforting vegan soup is the perfect way to use up old broccoli stems AND wow your guests at your next Oktoberfest dinner. It pairs perfectly with vegan pretzel breads, too for a nice comforting Oktoberfesty feel.
Click here for the recipe!
I hope you enjoyed this roundup of Oktoberfest recipes to try at home!
Did these recipes tantalize your taste buds enough? If not, maybe you need to scroll through my in-depth guides to Oktoberfest appetizers, Oktoberfest desserts and the best food to try at the real Oktoberfest.
I hope you got plenty of ideas from this huge roundup of recipes for Oktoberfest! Let me know in the comments if you have any more ideas to add, or questions about what to serve at your Oktoberfest party. I'm, of course, always happy to help!