*FYI - this post may contain affiliate links, which means we earn a commission at no extra cost to you if you purchase from them. Also, as an Amazon Associate I earn from qualifying purchases. Check out our Privacy Policy and Disclosure for more info.
The Armbrustschützenzelt tent at Munich's world-famous Oktoberfest is best known for its annual crossbow competition and hunting themed decor.
Well if you're currently planning your own Oktoberfest trip, you might be wondering how to get reservations to the Armbrustschützenzelt tent, or maybe just curious to take a peek inside.
If so, you're in luck! Read on for an overview of the Armbrustschützenzelt tent at Oktoberfest, from seating capacity and what beer they serve to a (more personal) assessment on the tent's overall vibe, based on personal experience.
PS: Want to read more about Oktoberfest's tents? Check out our full ranking of Oktoberfest tents in Munich.
Armbrustschützenzelt Basic Facts
Beer served at this Oktoberfest tent: Paulaner
Indoor seating capacity: 5,830
Outdoor seating capacity: 1600
How to Get Reservations at the Armbrustschützenzelt
Reservations open: Usually open in mid-April
Reservations made by: Fax, post, online form (for certain dates)
Based on previous years, here is how the system goes: Basically, you can request a reservation by fax or by post, with certain dates bookable through this online form.
Some time slots will soon be blacked out/fully booked, so refer to the colour coded chart they've provided to help you understand.
Green slots are bookable via the online form or fax/post, blue and yellow slots are bookable only by fax and post, while red ones are fully booked or unbookable.
Where to send your reservation request: 089/23703705 or by mail to Sparkassenstr. 12, 80331 Munich.
What to include in your reservation request:
Date and time of your reservation
Number of people in your party (must be in groups of 10)
Complete name/company name and address including email address
Fax number
Customer number (if available, assuming this is for customers who have reserved in the past)
NOTE: Processing time is said to be about 6 weeks, so if you don't hear back, hang tight!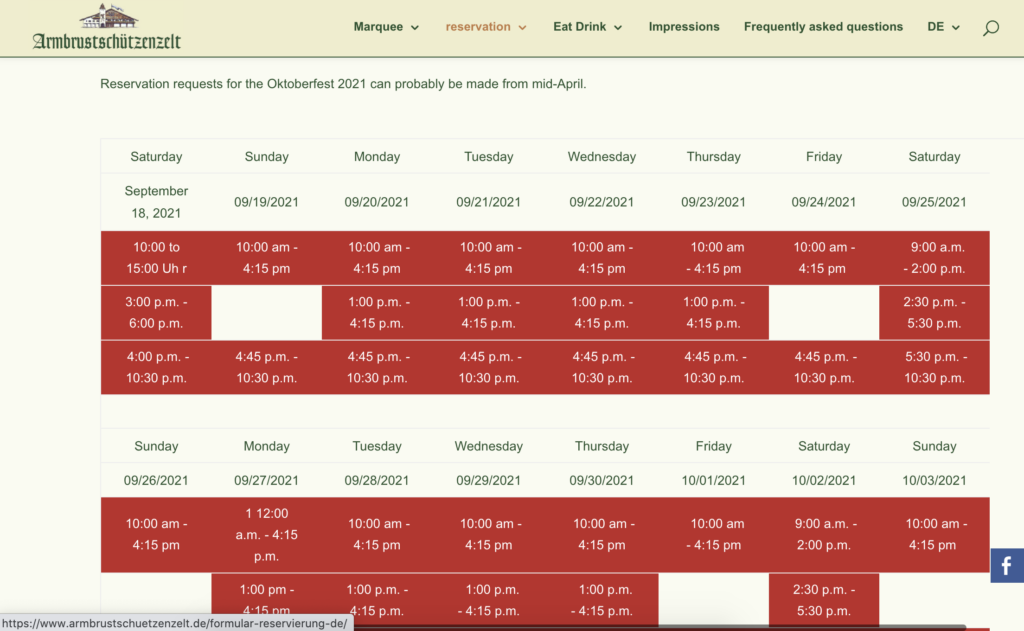 Overall Armbrustschützenzelt Decor & Vibe
This tent is known for hosting the annual crossbow competition, and as such, it's decorated like a hunter's lodge with a lot of mounted animal heads, taxidermy, hunting motifs, etc.
Even the boxes and balconies take their names after local animals.
Generally speaking, it has fewer tourists than the other big tents at Oktoberfest, and less of a party vibe, so if you're looking for something more low-key, this might be perfect. Otherwise, we would recommend one of the other large tents if you're looking for a rowdier experience.
More Photos from the Armbrustschützenzelt
We Hope You Enjoyed This Guide to the Armbrustschützenzelt at Oktoberfest!
Have you been to this tent before? If so, be sure to share your experience in the comments to help other Oktoberfest visitors in the future. Prost!