*FYI - this post may contain affiliate links, which means we earn a commission at no extra cost to you if you purchase from them. Also, as an Amazon Associate I earn from qualifying purchases. Check out our Privacy Policy and Disclosure for more info.
The Hofbräu tent at Munich's world-famous Oktoberfest is best known for its high-energy atmosphere, world-famous beer, and (for better or for worse) mainly tourist crowds.
Well if you're currently planning your own Oktoberfest trip, you might be wondering how to get reservations to the Hofbräu tent, or maybe just curious to take a peek inside.
If so, you're in luck! Read on for an overview of the Hofbräu tent at Oktoberfest, from seating capacity and what beer they serve to a (more personal) assessment on the tent's overall vibe, based on personal experience.
PS: Want to read more about Oktoberfest's tents? Check out our full ranking of Oktoberfest tents in Munich.
Hofbräu Festzelt Basic Facts
Beer served at this Oktoberfest tent: Hofbräu
Indoor seating capacity: 6898
Outdoor seating capacity: 3022
How to Get Reservations at the Hofbräu Festzelt
Reservations open: Open
Reservations made by: Online Form here
How to get reservations at the Hofbräu Oktoberfest tent:
NOTE: This process is taken directly from the tent's official website here.
STEP ONE: Go to the tent's reservation page here and look for any dates or time slots that display "Free". Click on any desired date that says "Free".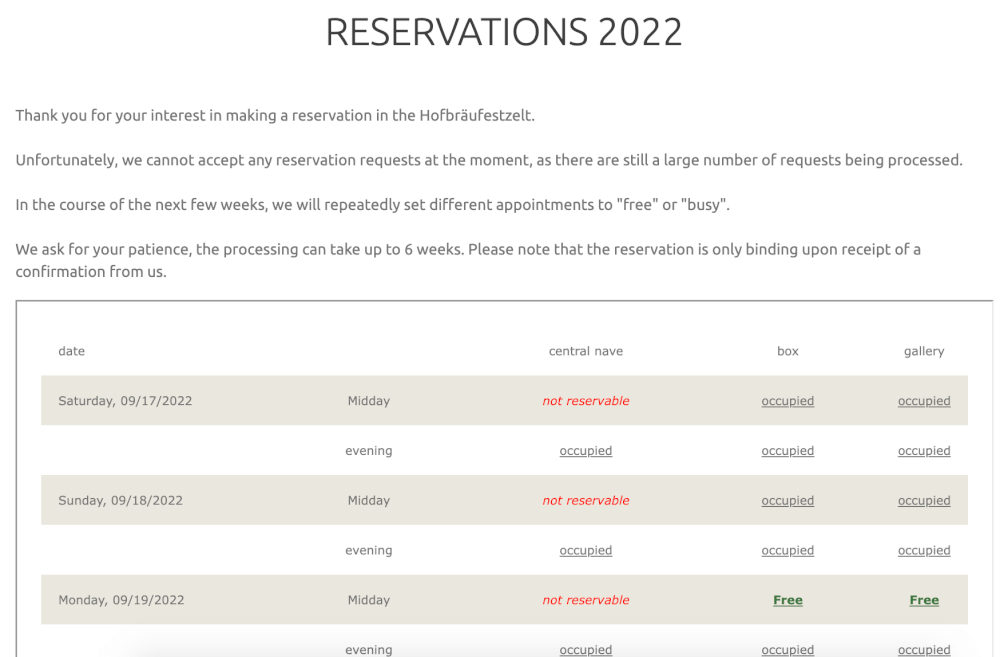 And fill out the form with your information: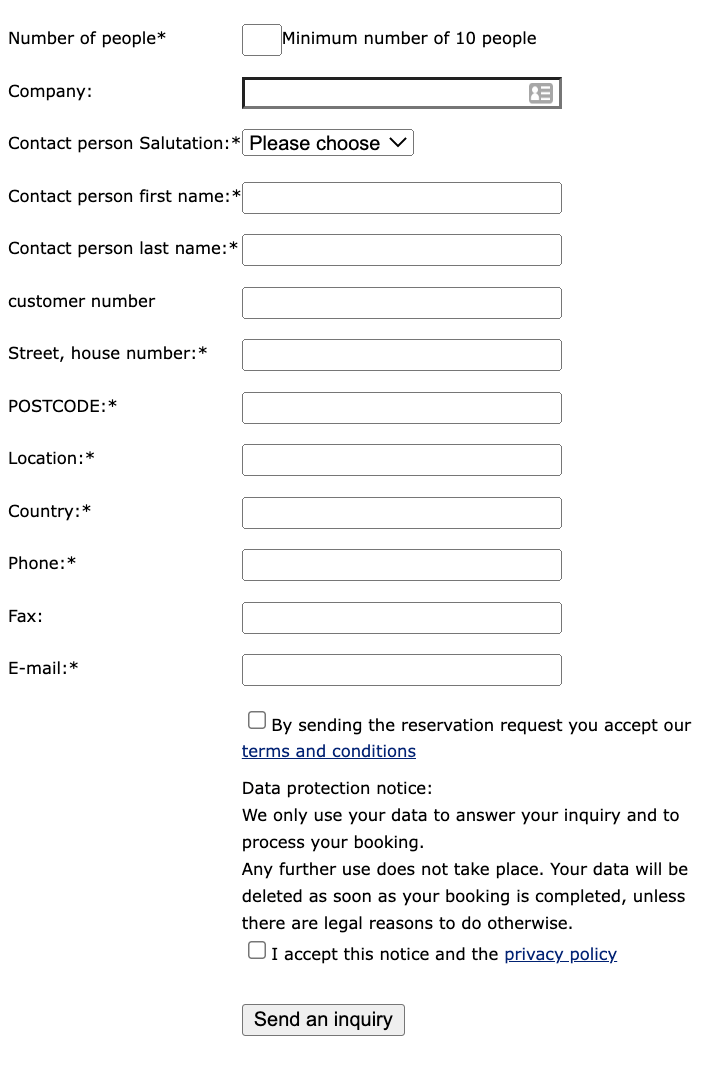 STEP TWO: Wait for either a reservation confirmation or a 'rejection' via email, which takes up to 6 weeks.
STEP THREE: If you have received a confirmation, congratulations! You're in! Attached in the email you'll find a "Reply" form that must be sent by mail or by fax (089/448 35 87) within 14 days. You apparently won't receive any further confirmation automatically until…
STEP FOUR: Wait for your invoice which will be sent in June. You must pay within 14 days of receiving the invoice. Apparently you can also pay in-person with cash or EC card, and vouchers can be mailed within Germany if you've paid in July or August.
STEP FIVE: Pick up your vouchers after your payment has been received. Up until early September, you can get them from their city ​​office (Hofbräukeller, Innere Wiener Str. 19, 81667 Munich) OR otherwise, you can pick up your vouchers in the tent office when you actually arrive at Oktoberfest.
Overall Hofbräu Festzelt Decor & Vibe
Arguably the most popular Oktoberfest tent among tourists, the Hofbräu Festzelt is usually a loud, rambunctious mix of Australian, American, Italian and other international visitors.
Who won't you really find here? Too many locals.
That's because this tent has a rep for being where all the worst kinds of tourists go, the ones who are here to get black out drunk, fall asleep on the tables and just be unruly.
The decor of this tent is honestly really beautiful, with hops chandeliers dangling from the ceiling, and as a plus, it is the only tent with standing room, so there's more options for sure……. but I really just couldn't love it (for the reasons mentioned above).
More Photos from the Hofbräu Festzelt
We Hope You Enjoyed This Guide to the Hofbräu Festzelt at Oktoberfest!
Have you been to this tent before? If so, be sure to share your experience in the comments to help other Oktoberfest visitors in the future. Prost!