*FYI - this post may contain affiliate links, which means we earn a commission at no extra cost to you if you purchase from them. Also, as an Amazon Associate I earn from qualifying purchases. Check out our Privacy Policy and Disclosure for more info.
The Schützen-Festzelt tent at Munich's world-famous Oktoberfest is best known for its annual shooting competition and convenient location near Lady Bavaria.
Well if you're currently planning your own Oktoberfest trip, you might be wondering how to get reservations to the Schützen-Festzelt tent, or maybe just curious to take a peek inside.
If so, you're in luck! Read on for an overview of the Schützen-Festzelt tent at Oktoberfest, from seating capacity and what beer they serve to a (more personal) assessment on the tent's overall vibe, based on personal experience.
PS: Want to read more about Oktoberfest's tents? Check out our full ranking of Oktoberfest tents in Munich.
Schützen-Festzelt Basic Facts
Beer served at this Oktoberfest tent: Löwenbräu
Indoor seating capacity: 5100
Outdoor seating capacity: 4100
How to Get Reservations at the Schützen-Festzelt
Reservations open: Now
Reservations made by: Through their online reservation system here
How to get reservations at the Schützen-Festzelt Oktoberfest tent:
STEP ONE: Head over to their online reservation system here and select your desired date, time slot, number of tables, etc.
STEP TWO: Choose your desired food options.
STEP THREE: Enter your personal information and submit your request.
STEP FOUR: Wait patiently for an email confirmation, and then (if successful) watch out for your invoice coming in June. Pay it ASAP to secure your reservation.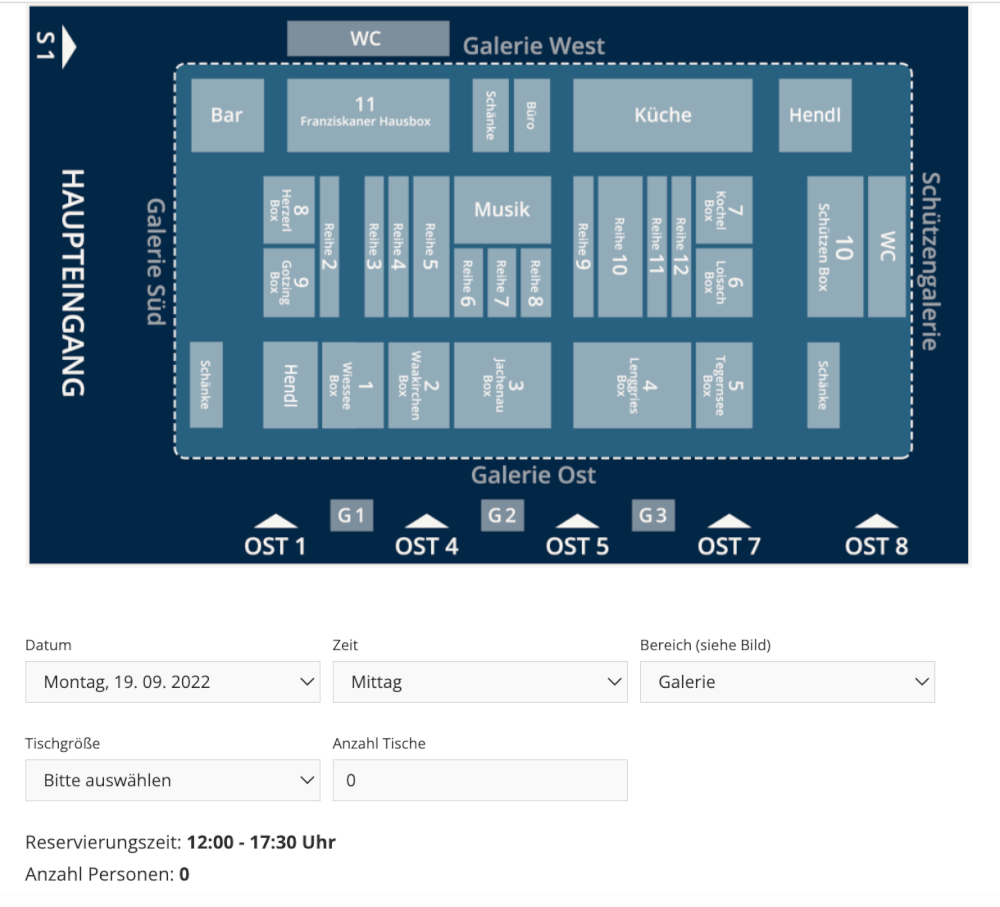 Overall Schützen-Festzelt Decor & Vibe
Freshly renovated in 2015, the Schützen-Festzelt is a gorgeous tent with alpine flair that flies under the radar thanks to its location tucked away at the far end of the Oktoberfest grounds.
I've found that it tends to attract an older crowd, certainly during the day, and the atmosphere here is classier and more refined than some of the other party tents.
With a beautiful outdoor balcony that overlooks the Oktoberfest ferris wheel and the grounds below, this is also the tent where they host the traditional Oktoberfest shooting competition, since once upon a time this is the tent where marksmen would hang out and… shoot things.
I like this tent a lot for a more laid-back beer with friends, although it does get pretty bumpin' in the evening!
More Photos from the Schützen-Festzelt
We Hope You Enjoyed This Guide to the Schützen-Festzelt at Oktoberfest!
Have you been to this tent before? If so, be sure to share your experience in the comments to help other Oktoberfest visitors in the future. Prost!