*FYI - this post may contain affiliate links, which means we earn a commission at no extra cost to you if you purchase from them. Also, as an Amazon Associate I earn from qualifying purchases. Check out our Privacy Policy and Disclosure for more info.
The Augustiner-Festhalle tent at Munich's world-famous Oktoberfest is best known for its classy dark green decor and distinctly local vibe.
Well if you're currently planning your own Oktoberfest trip, you might be wondering how to get reservations to the Augustiner-Festhalle tent, or maybe just curious to take a peek inside.
If so, you're in luck! Read on for an overview of the Augustiner-Festhalle tent at Oktoberfest, from seating capacity and what beer they serve to a (more personal) assessment on the tent's overall vibe, based on personal experience.
PS: Want to read more about Oktoberfest's tents? Check out our full ranking of Oktoberfest tents in Munich.
Augustiner-Festhalle Basic Facts
Beer served at this Oktoberfest tent: Augustiner
Indoor seating capacity: 6000
Outdoor seating capacity: 2500
How to Get Reservations at the Augustiner-Festhalle
… You can't.
No I'm not joking – you actually can't.
This is definitely one of the most popular tents among locals at Oktoberfest, and they've announced that they have so many repeat reservations (i.e. people who reserve every year) that they aren't able to accept any new customers.
You can keep an eye on their official website here in case anything changes, but I wouldn't get my hopes up.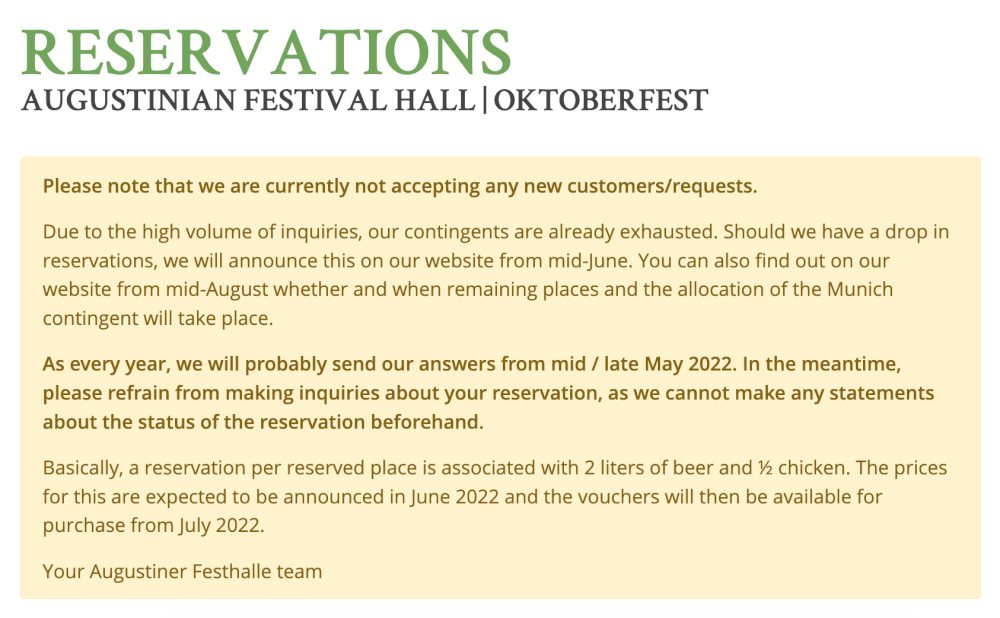 Overall Augustiner-Festhalle Decor & Vibe
In my opinion, this is one of the nicest looking tents (both inside and out).
The green colour palette is just SO SOOTHING, plus, I adore that there's a local vibe here and far fewer belligerent drunkos. That said, if you're looking for a crazy party atmosphere, this isn't the best place for it. It's known to be a very family-friendly tent and the music they play isn't as "GET ON THEM BENCHES AND DANCE!"
In fact, this is one of the few tents that are completely closed to new customers in terms of reservations, simply because they have so many local repeat-customers. That's why this you'll notice this tent has a much less touristy vibe.
More Photos from the Augustiner-Festhalle
We Hope You Enjoyed This Guide to the Augustiner-Festhalle at Oktoberfest!
Have you been to this tent before? If so, be sure to share your experience in the comments to help other Oktoberfest visitors in the future. Prost!