*FYI - this post may contain affiliate links, which means we earn a commission at no extra cost to you if you purchase from them. Also, as an Amazon Associate I earn from qualifying purchases. Check out our Privacy Policy and Disclosure for more info.
This post was originally published on Happy to Wander.
While beer may be the highlight of Oktoberfest, it must be said: if you leave without sampling the food at Oktoberfest, you have done it all wrong.
Why? Well, without exaggerating, Oktoberfest food is some of THE most satisfying, indulgent grub you'll ever experience.
All the better when used to absorb the literal litres of beer sitting your stomach.
I mean, it's by no means cheap (most entrees will be in the 15-20 euro range) but the food choice at Oktoberfest is staggering. Besides a bunch of food stalls outside the tents, each tent has a food menu, and there are even some tents solely dedicated to special foods.
So all that totals up to mean YES, there is amazing Oktoberfest food to be had. Here are a few highlights and basic musts to know before you visit Oktoberfest for yourself.
Excuse the blurry photography – clearly taking nice photos is not a high priority for tipsy us.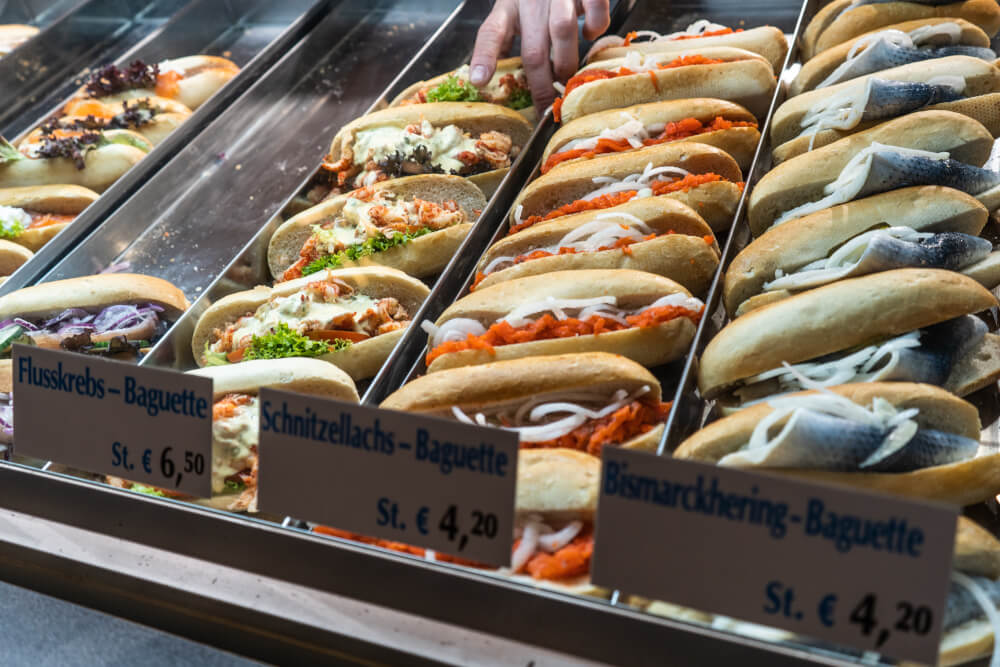 1. 1/2 Roast Chicken
AKA Hendl
Trust me when I say there is no joy greater than ripping at a roast chicken with your fingers after a few litres of beer.
Unsurprisingly, of all the food served at Oktoberfest in Munich, 1/2 roast chickens are among the most common. You'll see servers pedalling these out like clockwork at all hours of the festival, with mountains of greasy plates and napkins as evidence.
Best consumed after a few beers, when you start feeling a little peckish, a hendl is a must-try at Oktoberfest!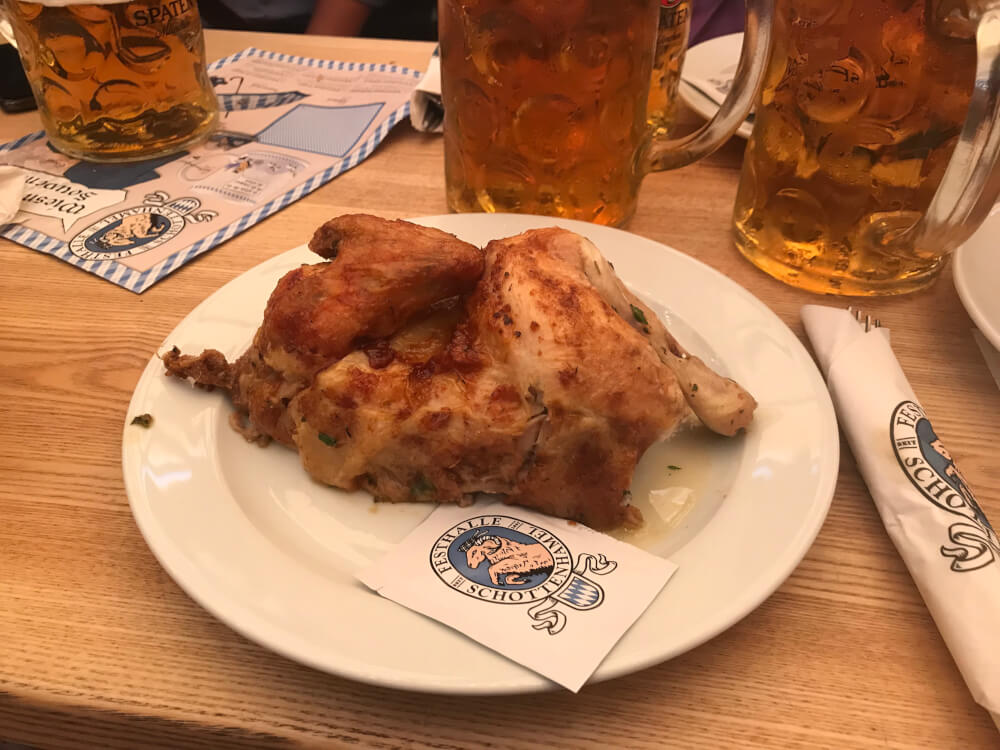 2. Roasted Pork Knuckle
AKA Schweinhaxe
Truly, one of the most beautiful meals on this Earth, and a real Bavarian classic is Schweinhaxe.
Regular words are insufficient to describe the joy of devouring a roasted pork knuckle served in a pool of gravy, so you better just try it for yourself.
Usually served with a delightful Knödel, a boiled dumpling that has a really weird but addictive chewy texture.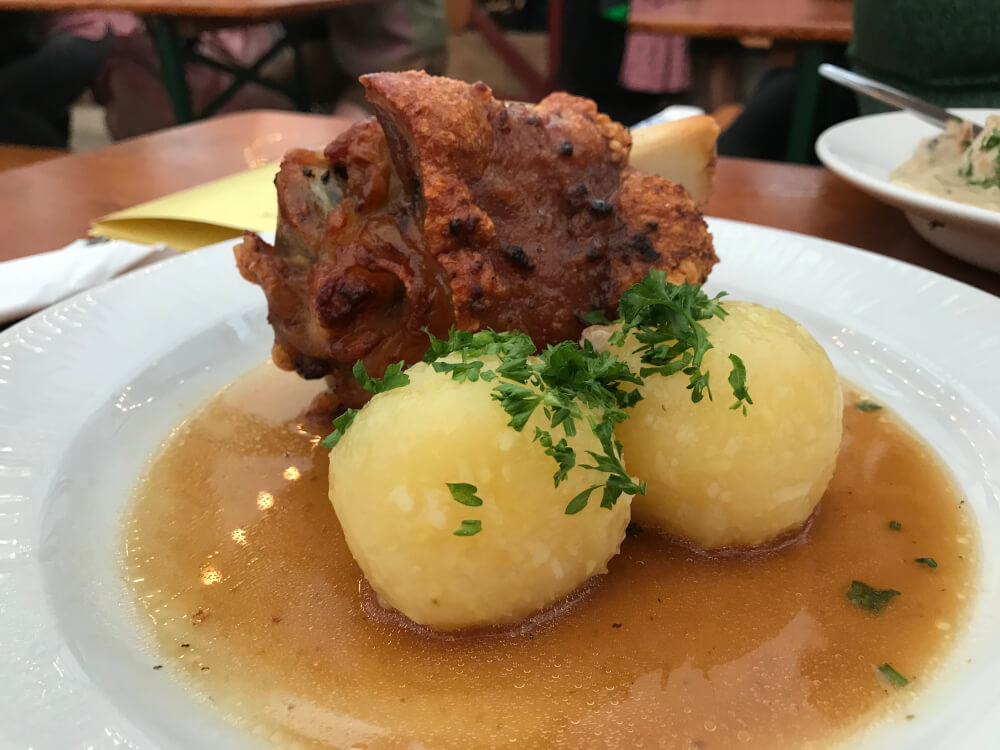 FYI, if you don't like crispy skin and just prefer juicy slabs of meat, see if they have Schweinsbraten instead (they're like pork chops soaked in gravy). It's pretty much the same meat but without the huge slice of crackly skin.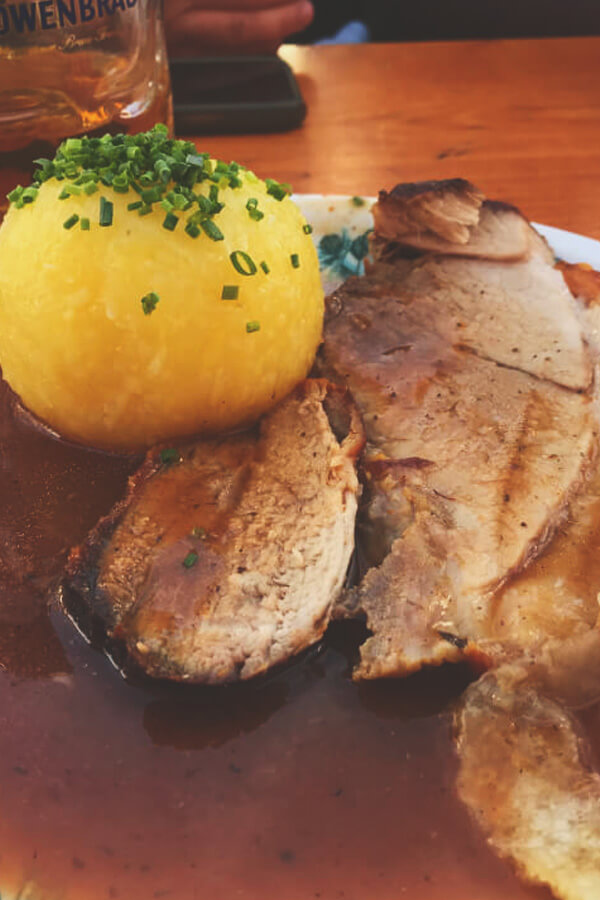 3. Sugary, roasted almonds
AKA Gebrannte Mandeln
These are like Oktoberfest's version of c r a c k.
They are so ridiculously addictive and delicious. You can catch the smell from a mile away. While they're more of a Christmas market treat, they are amazing to have while walking around/scoping out the different stalls.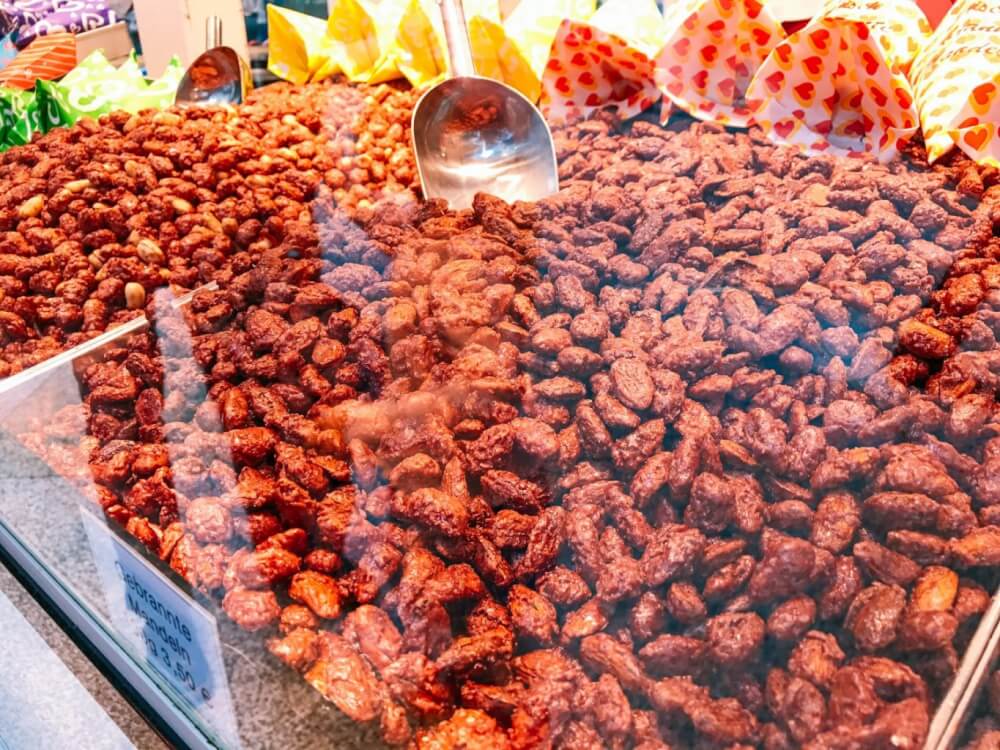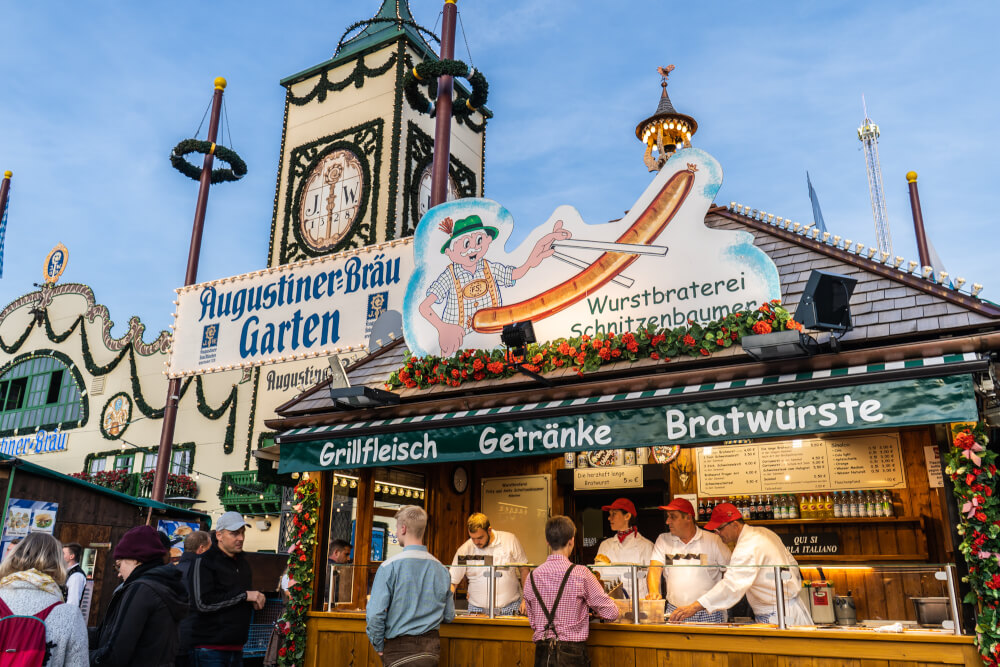 You can't go wrong with ordering sausages at Oktoberfest, but there are a few that you should definitely keep an eye out for, such as Weißwurst and Currywurst (see below).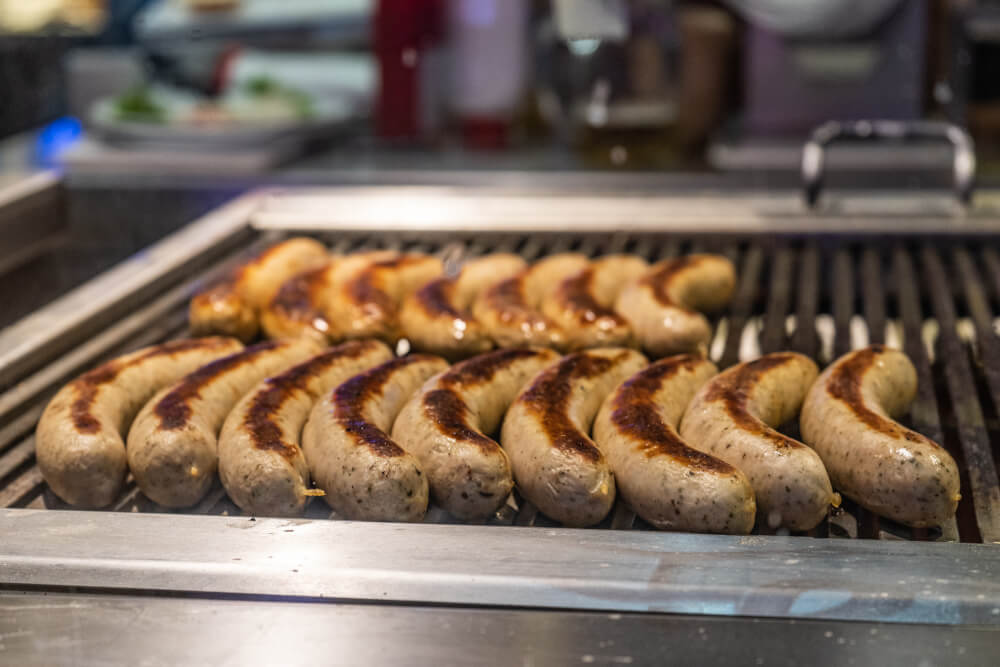 5. Weißwurst
I mean sure, it's not the most photogenic food in the world, but it's a Bavarian classic (typically consumed at breakfast with some sweet mustard, pretzel and wheat beer), and damn delicious too.
It is a bit of an acquired taste, but if you can get over the sorta weird appearance/texture, you're in for a treat.
IMPORTANT: It is a huge faux pas to serve Weißwurst after noon, so be sure to enjoy this in the morning if you want it – it's the perfect way to kick off your day in Munich. Also, remember, the skin must be removed before eating!There are a few "proper" ways to do this, but the easiest in my opinion is making a cut along the sausage lengthwise, then peeling the skin off.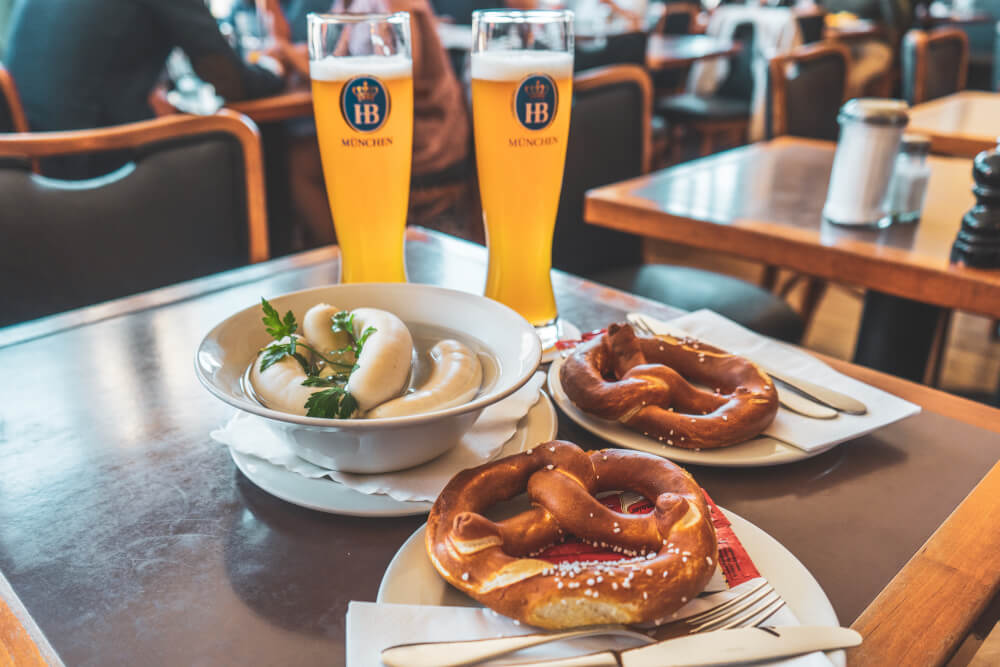 6. Currywurst
Not Bavarian, but seriously so good (and usually one of the cheaper offerings on the menu when the tent offers it). This beloved snack is not a traditional Oktoberfest food, but most tents now offer it and it's one of my personal favourites.
It's a simple sausage doused in curry ketchup and curry powder, usually served with a hot pile of fries.
It's not fancy by any means, but it does the job deliciously.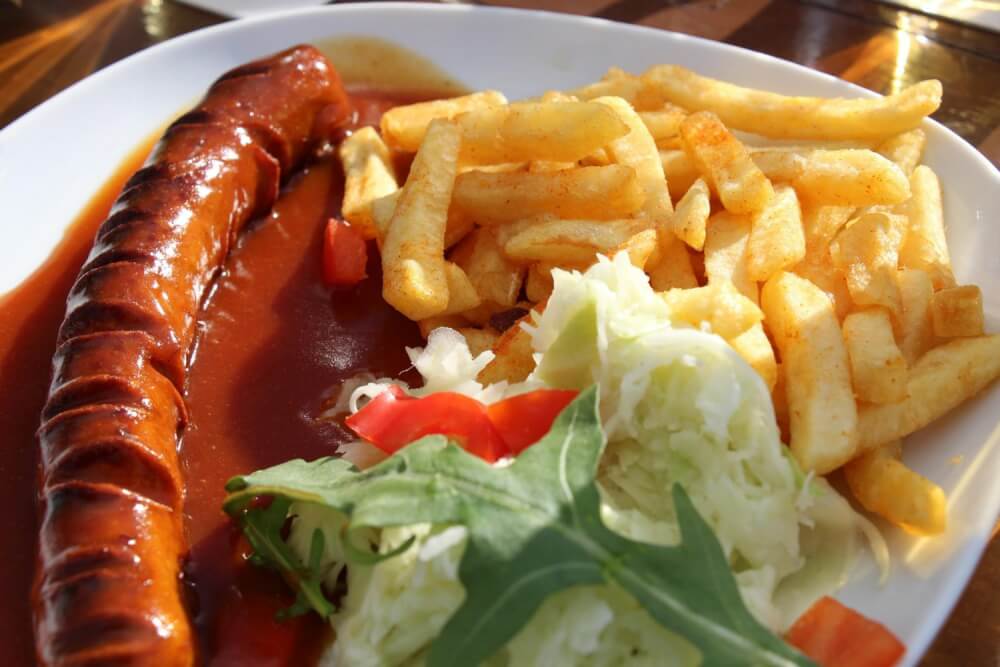 7. Pretzels
AKA Brezel
An Oktoberfest classic.
Foamy beers and a salt-studded pretzels are among the most stereotypical images of Germany, but for good reason… They go damn well together.
Don't bother getting the small pretzels, you'll want one of the REALLY big ones so you can slowly peck away at it while you down your beer.
It's nice to get a few to share… Trust me, once it's on the table, everyone will be having "just a little piece" until there's none left. This is why I have trust issues.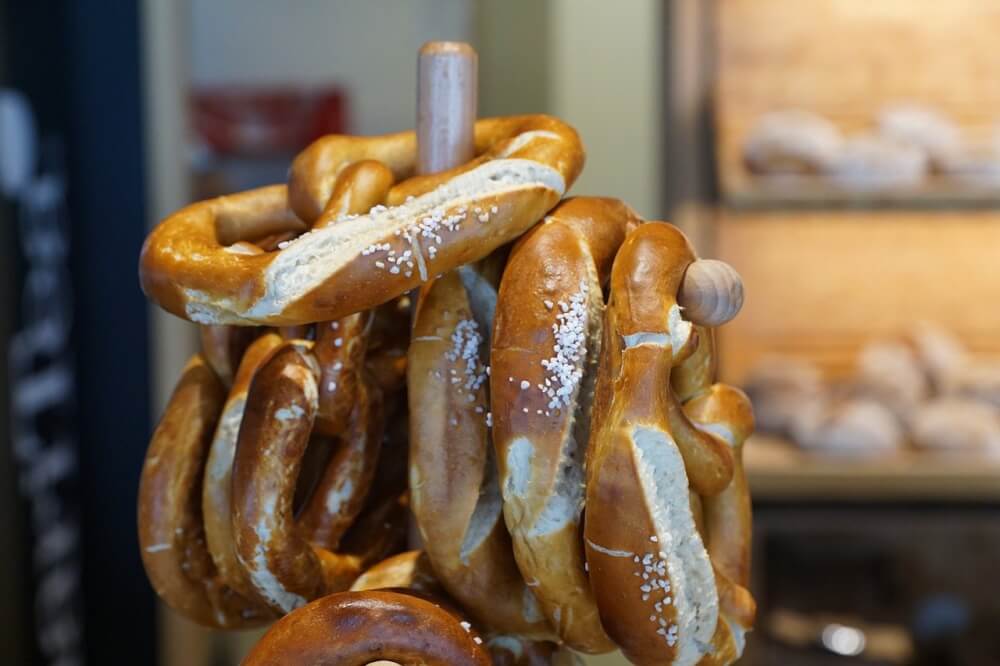 The best way to describe this is like a Bavarian take on mac and cheese. This is one of my favourite Oktoberfest recipes to recreate at home because it's a pretty foolproof dish.
Basically, Käsespätzle consists of these amazing doughy dumplings that are covered in sharp cheeses then topped with caramelized onions.
It is simply one of THE best comfort foods (and hangover cures) in existence.
Also, one of the few classically Bavarian dishes that are vegetarian-friendly.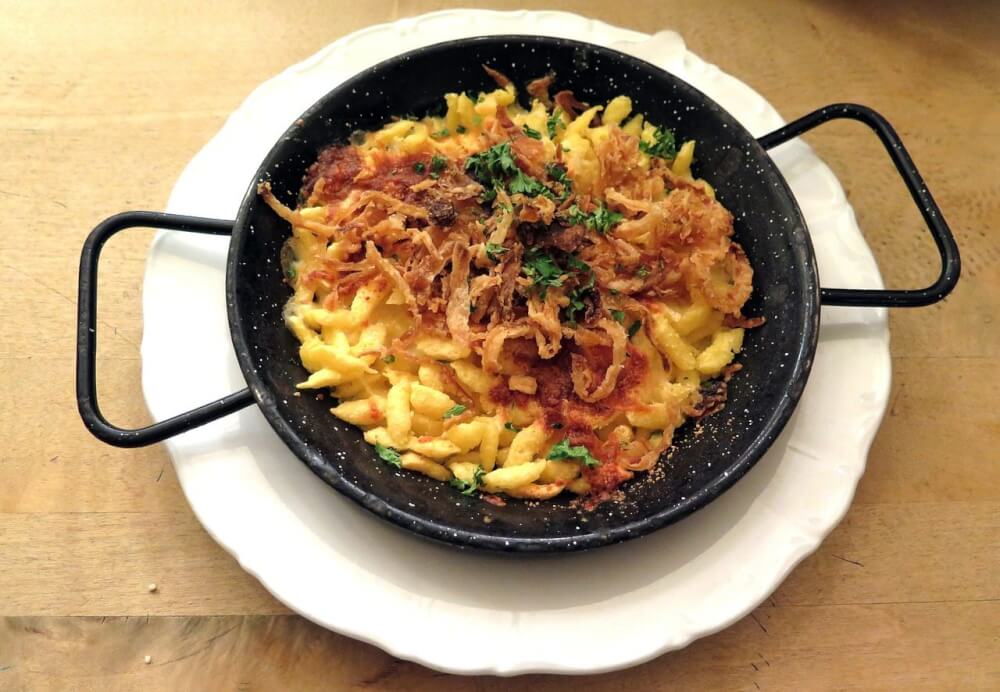 9. Kaiserschmarrn
Speaking of comfort foods, you need to get some Kaiserschmarrn for dessert. It's like a cozy hug for your tastebuds and one of the best Oktoberfest desserts of all time.
While it may be Austrian, it's still a staple delight of Oktoberfest and a real must-try.
Essentially it's a fluffy shredded pancake that's dusted off with powdered sugar and other fix-ins. I love it with apple sauce.
You can get it at the Café Kaiserschmarrn, which is the one that looks like a giant gingerbread castle filled with whimsy and sweet delights.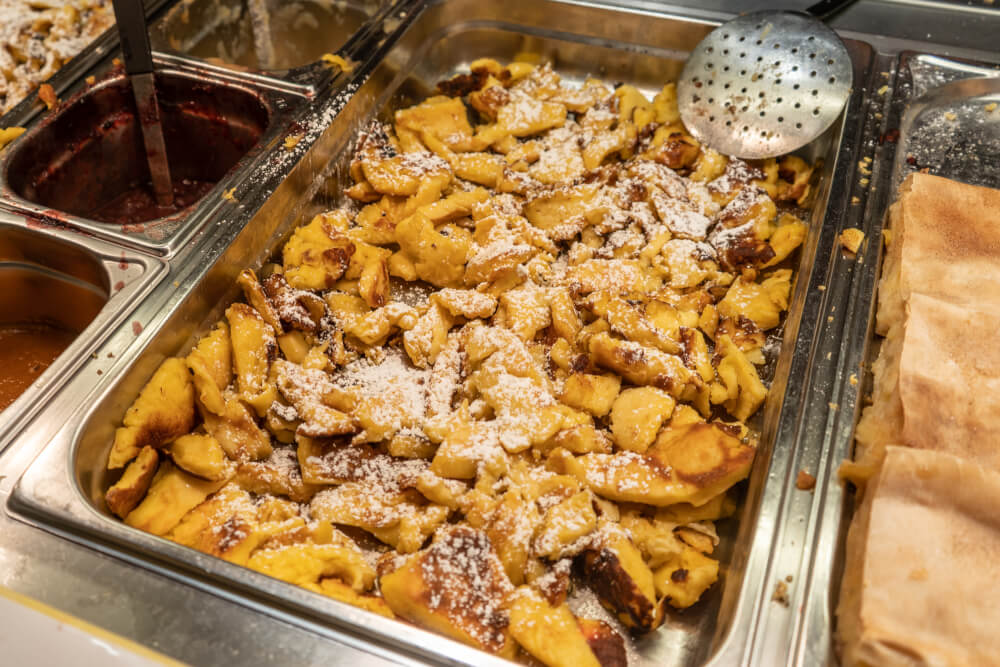 10. Stecklerfisch
Yes, seafood is a thing at Oktoberfest too.
Bavarians love roasting their fish on sticks, and this is the perfect main course to try if you want something lighter than a giant slab of meat drowned in gravy. I warn you though: the smell is….. pungent to say the least.
In fact, the smell of Stecklerfisch is one of the main reasons why the Fischer-Vroni tent is one of my least favourite of all the tents at Oktoberfest. I've been told they're tasty though!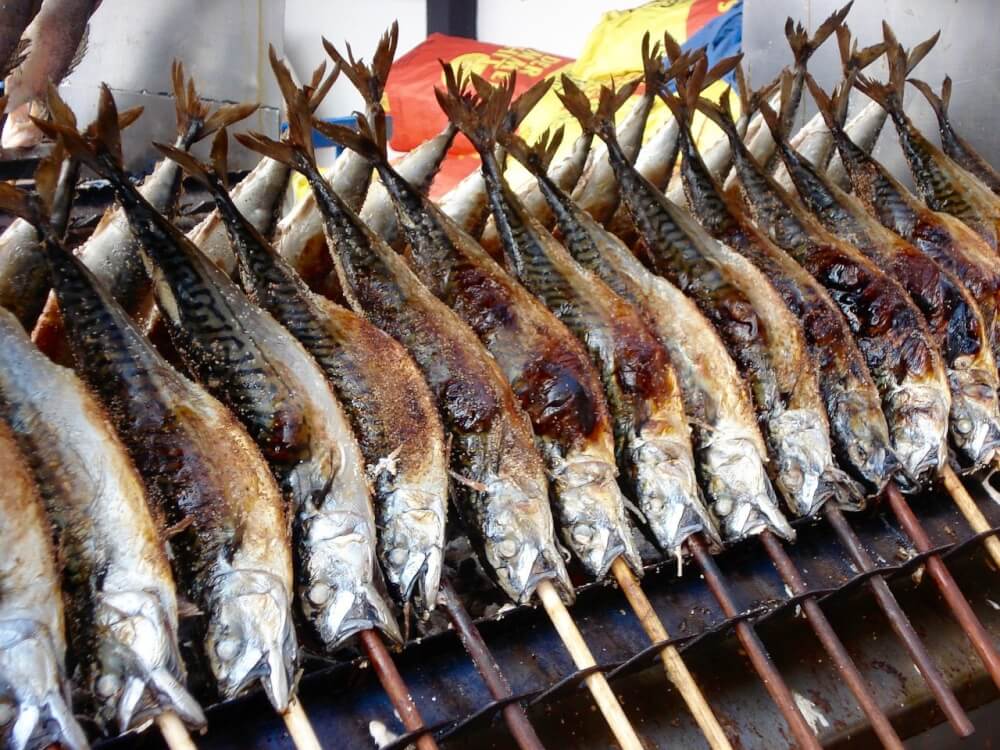 11. Dampfnudel
Another tasty Oktoberfest dessert you can try from Café Kaiserschmarrn is Dampfnudel! Think of it as a giant pillowy soft loaf of sweet bread that's served in a decadent vanilla sauce. One of my favourite all-time Oktoberfest desserts!
Want to make it yourself? Click here to check out my roundup of Oktoberfest recipes.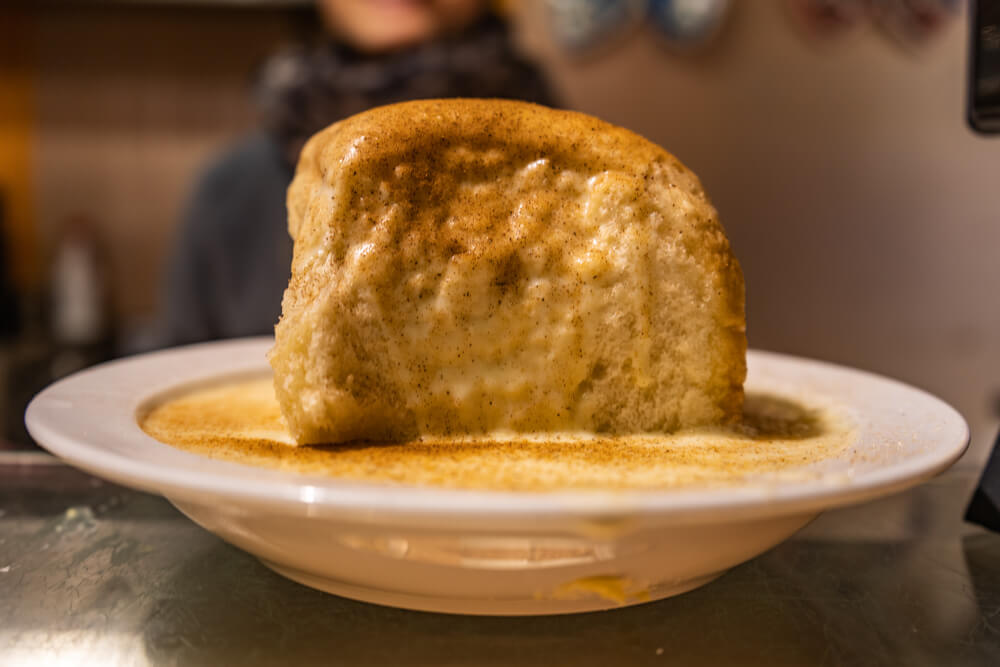 12. Obatzda
It doesn't look like much, but one of the tastiest Oktoberfest appetizers you can try is Obatzda, a yummy spread made of soft cheese and butter. It's typically consumed with a pretzel or bread, and a starring attraction on any Oktoberfest snack platter.
This is beer garden food at its finest, so be sure to look out for it!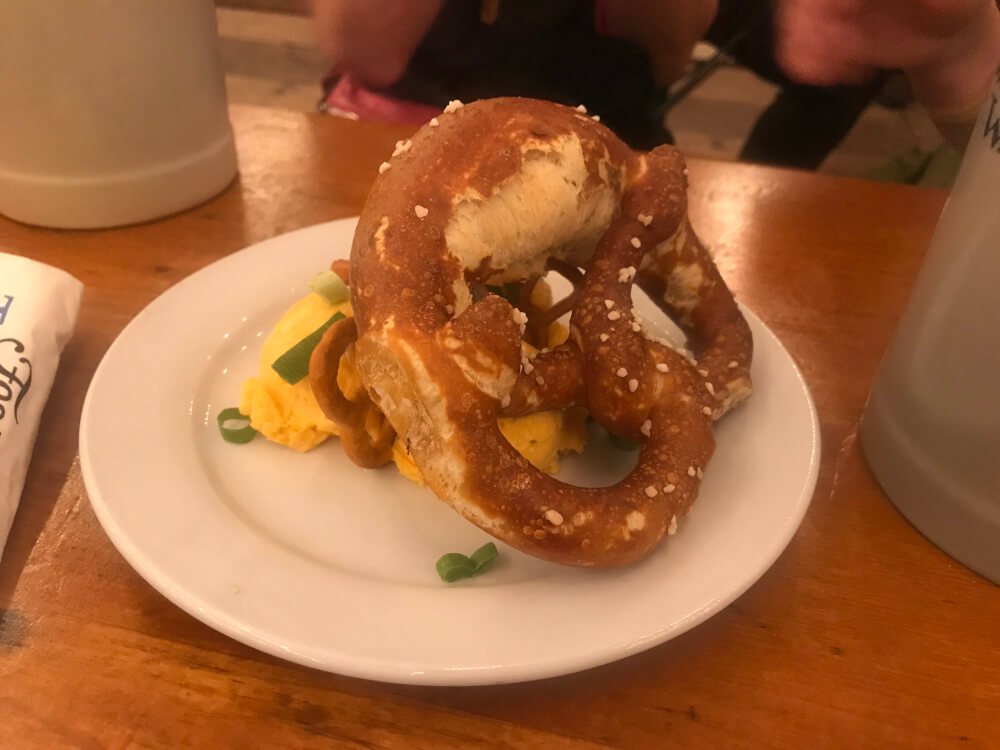 13. Shrimp with Garlic Sauce
Another not-so-Bavarian recommendation for food to eat at Munich Oktoberfest is this amazing fried shrimp from the Fischer Vroni stall (outside of the pungent Fischer Vroni tent).
While it's not a traditional meal, it's the perfect snack after a few beers, with a decadent garlic sauce that I would genuinely marry.
PS: It's even served in an edible waffle bowl. Zero waste, baby!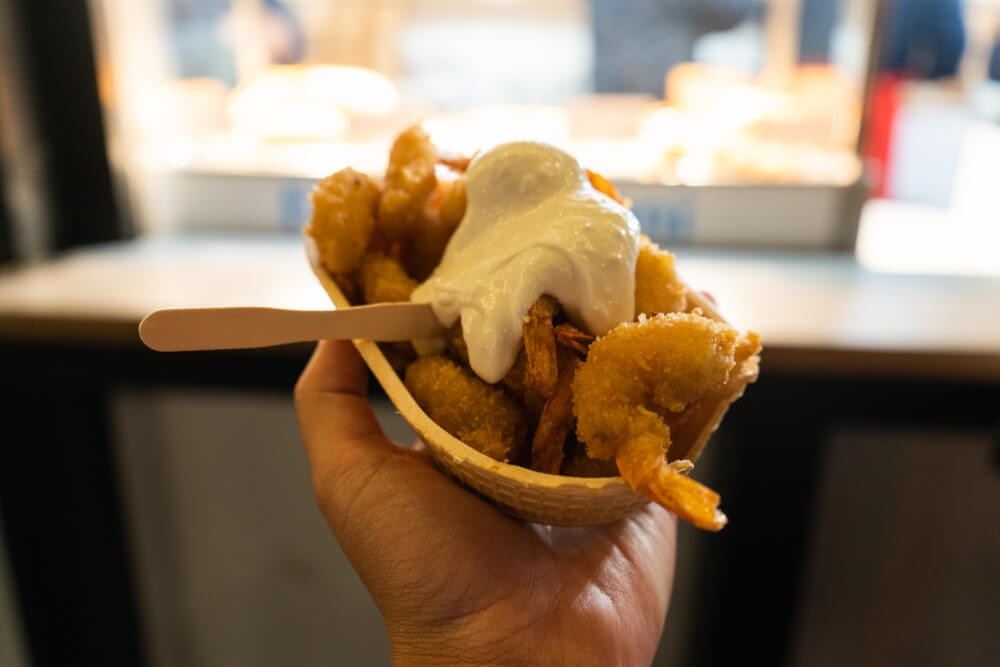 14. Flammkuchen
Flammkuchen is a tasty pizza-like snack that is popular around the Alsace region of France, where it's commonly consumed en masse at all the magical Alsatian Christmas markets.
Luckily for you, it's also a beloved snack at German festivals like Oktoberfest. With a crispy dough base, traditional Flammkuchen (also known as Tarte Flambée) is slathered with creme fraiche, onions and bacon, although other variations are pretty popular these days too.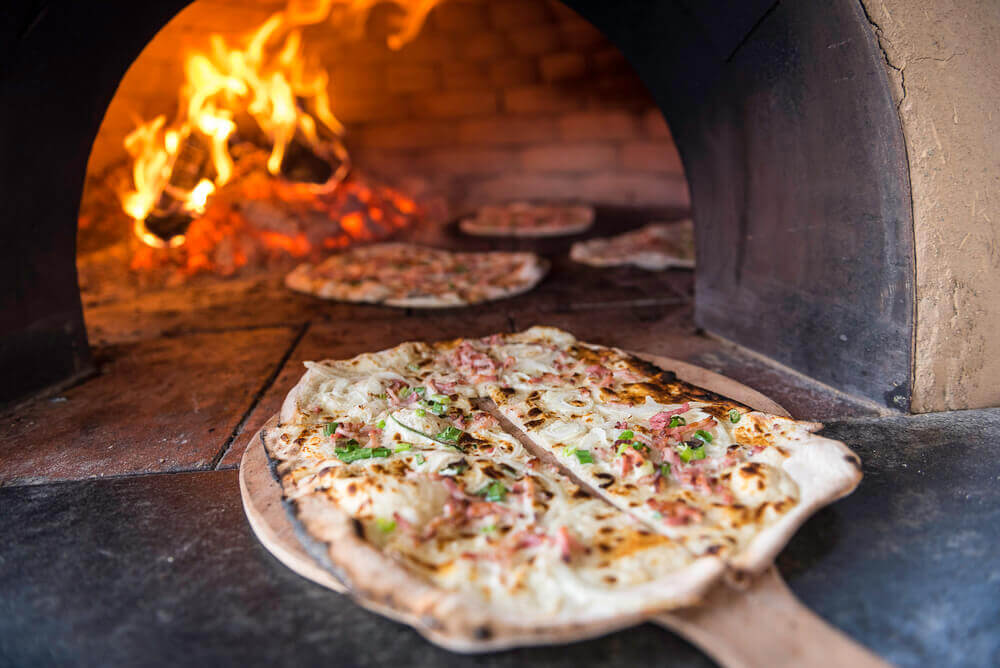 15. Rahmfleckerl
Similar to Flammkuchen is the very Bavarian snack of Rahmfleckerl, which consists of a thin rye sourdough that's topped with Schmand (a thick sour cream), green onion, and bacon bits.
You'll usually find them at one of the many stalls scattered around the Oktoberfest grounds.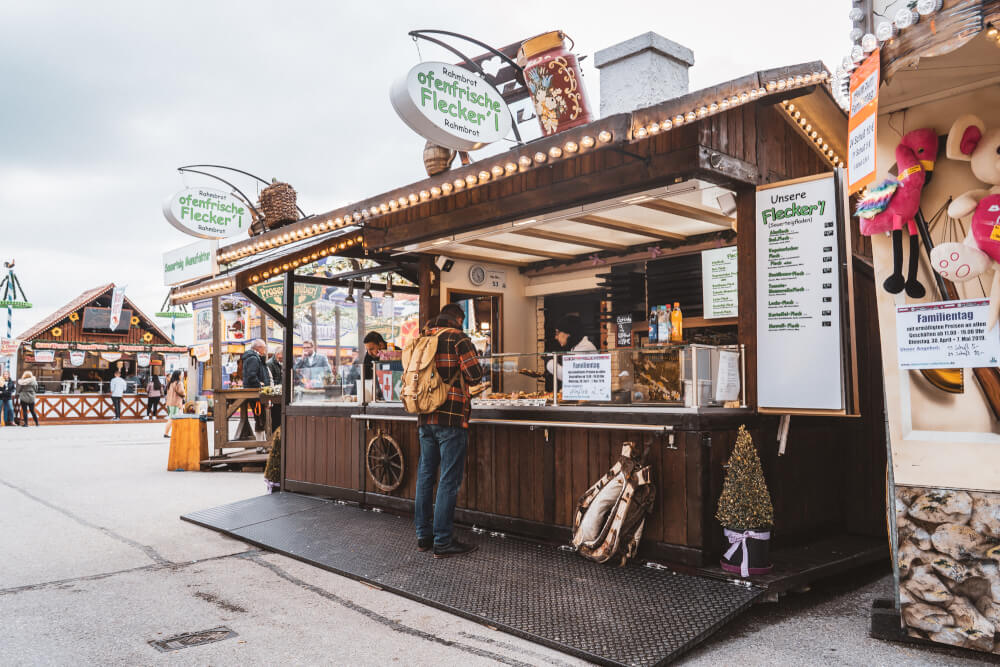 16. Roast Duck
Last but not least, for an Oktoberfest dish that's a bit more gourmet, consider getting some roast duck, usually served with a side of red cabbage and a small knödel.
I had mine as part of a lunch special at the Käfer's Wies'n-Schänke. PRO TIP: Some of the best food at Oktoberfest can be found at this tent, which is beloved by celebrity visitors, so be sure to check it out if you're after a truly tasty foodie experience.
Last but not least, skip the giant gingerbread cookie things…
These taste terrible.
They're much prettier as decoration or a nice souvenir. Actually eating one is a mistake.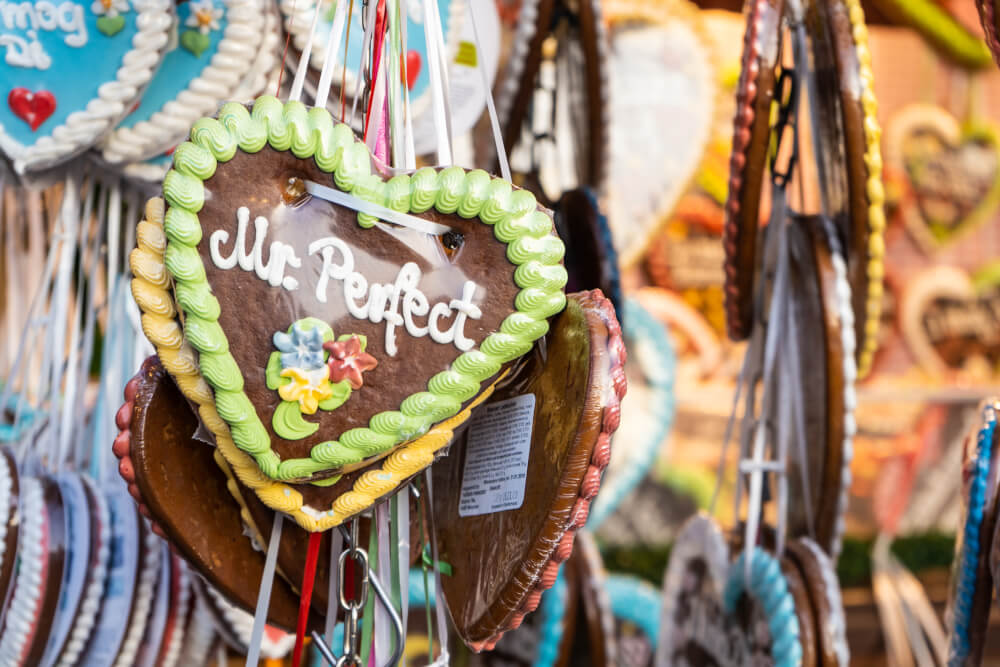 I hope you enjoyed this post about Food at Oktoberfest!
As a final tip: be sure to bring stretchy pants to change into when you get home. You'll need them. Have an amazing time, and prost!