*FYI - this post may contain affiliate links, which means we earn a commission at no extra cost to you if you purchase from them. Also, as an Amazon Associate I earn from qualifying purchases. Check out our Privacy Policy and Disclosure for more info.
The Käfer Wiesn-Schänke tent at Munich's world-famous Oktoberfest is best known for its gourmet offerings, exclusive atmosphere and (often) celebrity clientele.
Well if you're currently planning your own Oktoberfest trip, you might be wondering how to get reservations to the Käfer Wiesn-Schänke tent, or maybe just curious to take a peek inside.
If so, you're in luck! Read on for an overview of the Käfer Wiesn-Schänke tent at Oktoberfest, from seating capacity and what beer they serve to a (more personal) assessment on the tent's overall vibe, based on personal experience.
PS: Want to read more about Oktoberfest's tents? Check out our full ranking of Oktoberfest tents in Munich.
Käfer Wiesn-Schänke Basic Facts
Beer served at this Oktoberfest tent: Paulaner
Indoor seating capacity: 1000
Outdoor seating capacity: 1900
How to Get Reservations at the Käfer Wiesn-Schänke
Reservations open: Open
Reservations made by: Online reservation form here
How to get reservations at Käfer's Wies'n-Schänke Oktoberfest tent:
This is by far one of the most exclusive tents at Oktoberfest, and is known for being the "celeb" hang-out – a cozy, intimate tent with gourmet food options. It's so exclusive in fact that reservations aren't even allowed in the evenings and weekends.
BUT, if you want to get a taste of the Käfer's Wies'n-Schänke tent, the process is simple.
Basically you go on the online form here and select three time slots that you're interested in, how many of the above dates you'd like to book (1, 2 or 3) and finally, your contact info.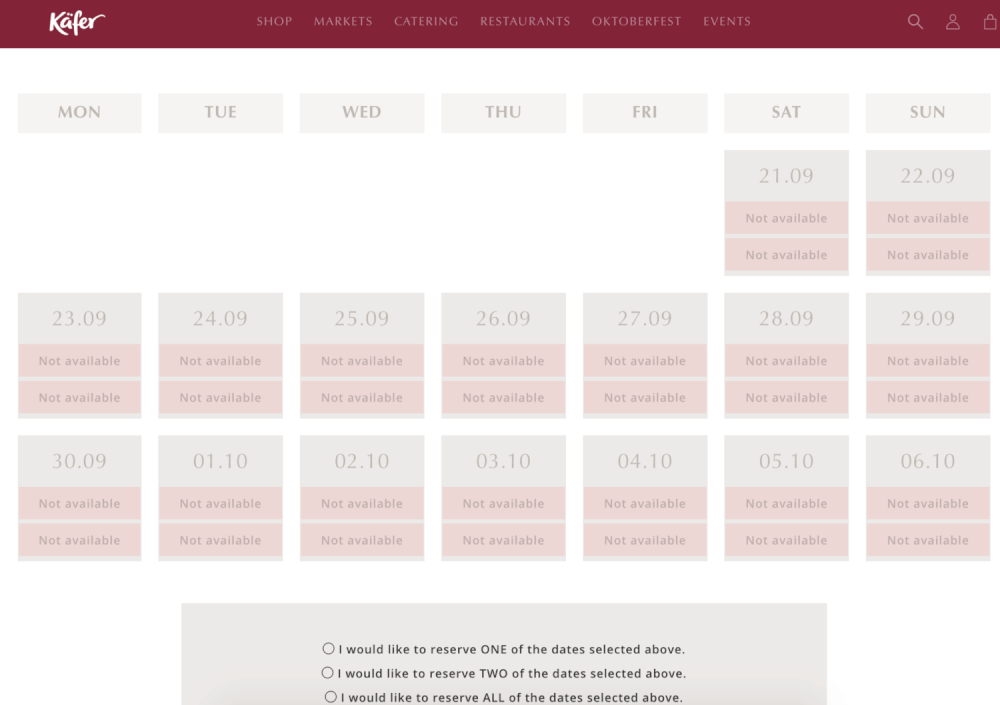 Overall Käfer Wiesn-Schänke Decor & Vibe
Exclusivity reigns at this cozy tent, which is beloved among celebrities and gourmet foodies. While you'll be hard pressed to get a seat here without a reservation (certainly not in the evenings), it's a really lovely tent where you feel like you've escaped the drunken debauchery of Oktoberfest and found a cozy mountain chalet instead.
Never have I felt more FOMO than while walking through this tent at lunchtime! All the tables were decked with happy locals eating giant platters of gourmet, delicious looking food, usually with a bottle of sparkling wine on ice.
Sadly, pretty much all the tables inside are reserved, so you have no hope of just sliding in… but I did end up getting a table in the beer garden, where I sampled their very affordable lunch special (relatively speaking), which included a soup, duck with potato dumplings and apple compote, and a cup of coffee (which I never got TBH because I was too awkward to ask) for only 24.50.
More Photos from the Käfer Wiesn-Schänke
We Hope You Enjoyed This Guide to the Käfer Wiesn-Schänke at Oktoberfest!
Have you been to this tent before? If so, be sure to share your experience in the comments to help other Oktoberfest visitors in the future. Prost!