*FYI - this post may contain affiliate links, which means we earn a commission at no extra cost to you if you purchase from them. Also, as an Amazon Associate I earn from qualifying purchases. Check out our Privacy Policy and Disclosure for more info.
The Kufflers Weinzelt tent at Munich's world-famous Oktoberfest is best known for its abundance of wine options, a true rarity at the world's largest beer festival!
Well if you're currently planning your own Oktoberfest trip, you might be wondering how to get reservations to the Kufflers Weinzelt tent, or maybe just curious to take a peek inside.
If so, you're in luck! Read on for an overview of the Kufflers Weinzelt tent at Oktoberfest, from seating capacity and what beer they serve to a (more personal) assessment on the tent's overall vibe, based on personal experience.
PS: Want to read more about Oktoberfest's tents? Check out our full ranking of Oktoberfest tents in Munich.
Kufflers Weinzelt Basic Facts
Beer served at this Oktoberfest tent: Paulaner Weißbier (wheat beer only), otherwise there's a selection of over 15 wines and sparkling wines
Indoor seating capacity: 1,920
Outdoor seating capacity: 580
How to Get Reservations at the Kufflers Weinzelt
Reservations open: Now
Reservations made by: Online reservation form here
How to get reservations at the Kufflers Weinzelt Oktoberfest tent:
The reservation process for Oktoberfest's cozy wine tent appears to already beopen for 2022 and is surprisingly simple.
All you need to do is visit the GERMAN version of the Reservation page here, enter your contact information and then choose the time slot of your desired reservation, along with the number of people you're reserving for.
This by no means secures your reservation though – you'll need to wait for an official confirmation, but it's a straight-forward, electronic process!
The prices you see correspond to the amount of vouchers you're required to purchase, so for example, it's small amount (10 euros) if you're popping in for lunch on a Monday, but it's way more if you're booking for a Sunday evening until closing time (80 euros).
NOTE: Assuming you are a new customer, make sure you press the "Reservierung ohne Kundennummer – Neukunde" menu which is for new customers with no prior reservations made at this tent.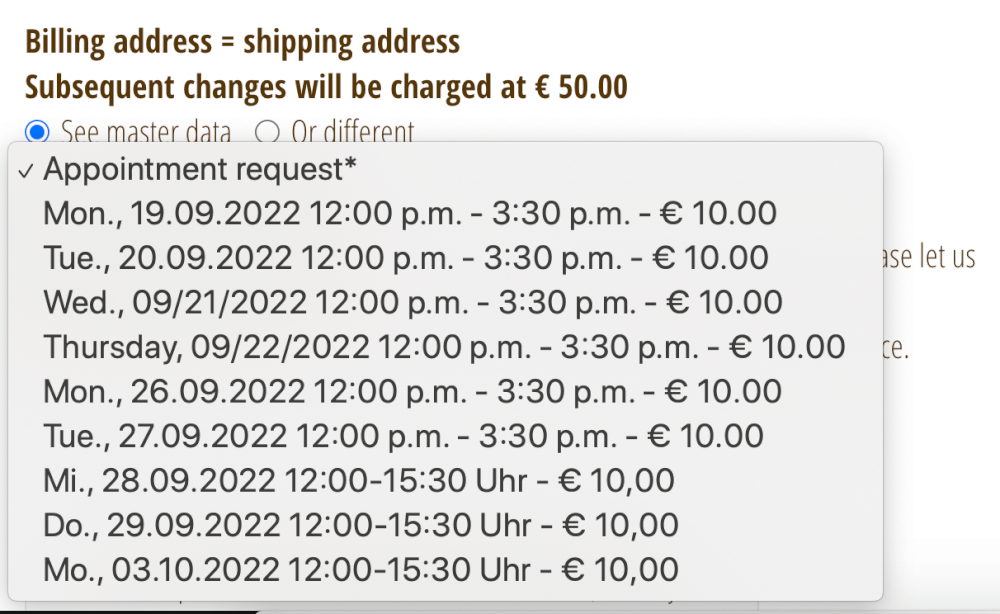 Overall Kufflers Weinzelt Decor & Vibe
This tent is CLASSY. As soon as you step in, you'll notice just how different the vibe is here compared to the other big beer tents.
Most tables will have bottles of champagne on ice, and while there is wheat beer available by the half litre, you won't be seeing any drunken dancing on tables here while hurling around the giant 1L beers.
This is a smaller and more intimate tent that caters to an older, well-to-do sort of crowd, but it's surprisingly not that expensive if you drink the cheapest options they have and share a bottle. I'd come back. It's not your classic Oktoberfest experience but it's still fun and more laid back than other tents.
More Photos from the Kufflers Weinzelt
We Hope You Enjoyed This Guide to the Kufflers Weinzelt at Oktoberfest!
Have you been to this tent before? If so, be sure to share your experience in the comments to help other Oktoberfest visitors in the future. Prost!