*FYI - this post may contain affiliate links, which means we earn a commission at no extra cost to you if you purchase from them. Also, as an Amazon Associate I earn from qualifying purchases. Check out our Privacy Policy and Disclosure for more info.
The Löwenbräu-Festhalle tent at Munich's world-famous Oktoberfest is best known for its roaring lion mascot and bright yellow interior.
Well if you're currently planning your own Oktoberfest trip, you might be wondering how to get reservations to the Löwenbräu-Festhalle tent, or maybe just curious to take a peek inside.
If so, you're in luck! Read on for an overview of the Löwenbräu-Festhalle tent at Oktoberfest, from seating capacity and what beer they serve to a (more personal) assessment on the tent's overall vibe, based on personal experience.
PS: Want to read more about Oktoberfest's tents? Check out our full ranking of Oktoberfest tents in Munich.
Löwenbräu-Festhalle Basic Facts
Beer served at this Oktoberfest tent: Löwenbräu
Indoor seating capacity: 5700
Outdoor seating capacity: 2800
How to Get Reservations at the Löwenbräu-Festhalle
Reservations open: Usually mid-March to April
Reservations made by: Email to [email protected]
How to get reservations at the Löwenbräu-Festhalle Oktoberfest tent:
While no reservations can be made in the evenings or weekends at Löwenbräu-Festhalle, their process for weekday afternoon table reservations is relatively straightforward.
According to their official website, reservations for Monday – Thursday lunch slots (12-4:30pm) can be made by emailing [email protected] starting in mid-April.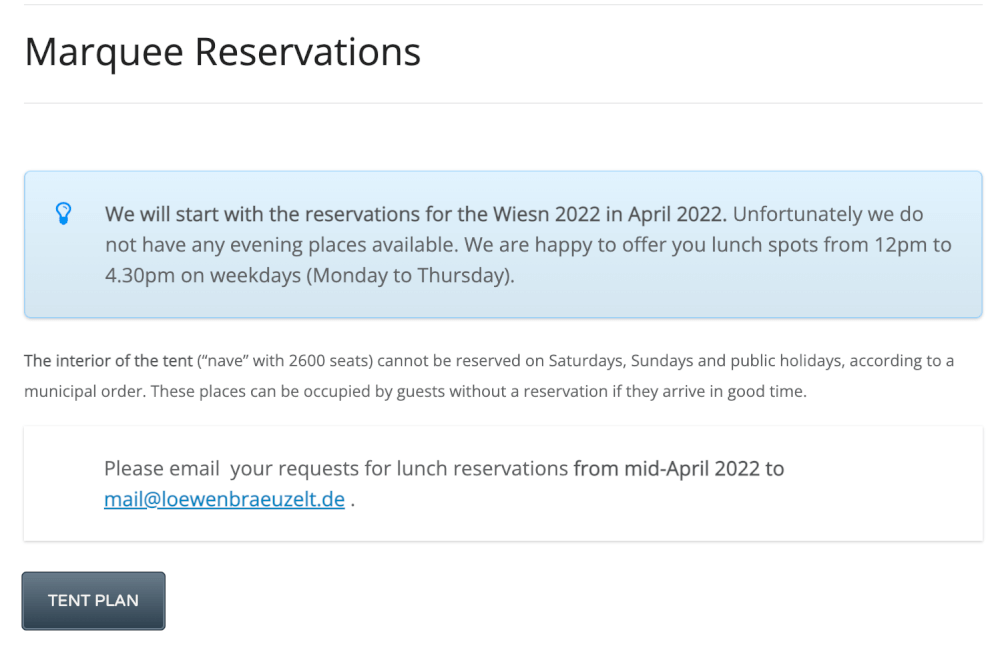 Overall Löwenbräu-Festhalle Decor & Vibe
The aggressively named "Lion's Brew" boasts a tent that is equally aggressive, complete with a lion that will randomly roar every few minutes and scare the schnapps out of you.
This tent is a lot of fun though, with a fun party vibe in the evenings and a fairly international crowd thanks to Löwenbräu's global brand recognition.
They also play a lot of international music, and have really fun staff (from the few times I've been in here).
Most heartwarming was when I shared a table with an old Bavarian man who after a few hours informed us the server was actually his sister, while the young server on our other side was (plot twist) the other server's DAUGHTER. Lots of in-tent nepotism. I love it.
More Photos from the Löwenbräu-Festhalle
We Hope You Enjoyed This Guide to the Löwenbräu-Festhalle at Oktoberfest!
Have you been to this tent before? If so, be sure to share your experience in the comments to help other Oktoberfest visitors in the future. Prost!