*FYI - this post may contain affiliate links, which means we earn a commission at no extra cost to you if you purchase from them. Also, as an Amazon Associate I earn from qualifying purchases. Check out our Privacy Policy and Disclosure for more info.
The Marstall Festzelt tent at Munich's world-famous Oktoberfest is best known for its charming carousel stage and relatively young age – this tent dates back only to 2014, making it the youngest of the festival's large tents.
Well if you're currently planning your own Oktoberfest trip, you might be wondering how to get reservations to the Marstall Festzelt tent, or maybe just curious to take a peek inside.
If so, you're in luck! Read on for an overview of the Marstall Festzelt tent at Oktoberfest, from seating capacity and what beer they serve to a (more personal) assessment on the tent's overall vibe, based on personal experience.
PS: Want to read more about Oktoberfest's tents? Check out our full ranking of Oktoberfest tents in Munich.
Marstall Festzelt Basic Facts
Beer served at this Oktoberfest tent: Spaten
Indoor seating capacity: 3200
Outdoor seating capacity: 1000
How to Get Reservations at the Marstall Festzelt
Reservations open: Now
Reservations made by: By online form only, available here
How to get reservations at the Marstall Festzelt Oktoberfest tent:
OPTION A: Reservation request via online form
Requests can be made ONLY through the online form on their website (or in person if you live in Munich and qualify for their "München-Kontingent" tables, but more on this later).
According to their site, this is how the process works:
STEP ONE: Starting mid-April, you can submit your reservation request through their official online form here which shows the dates they have available.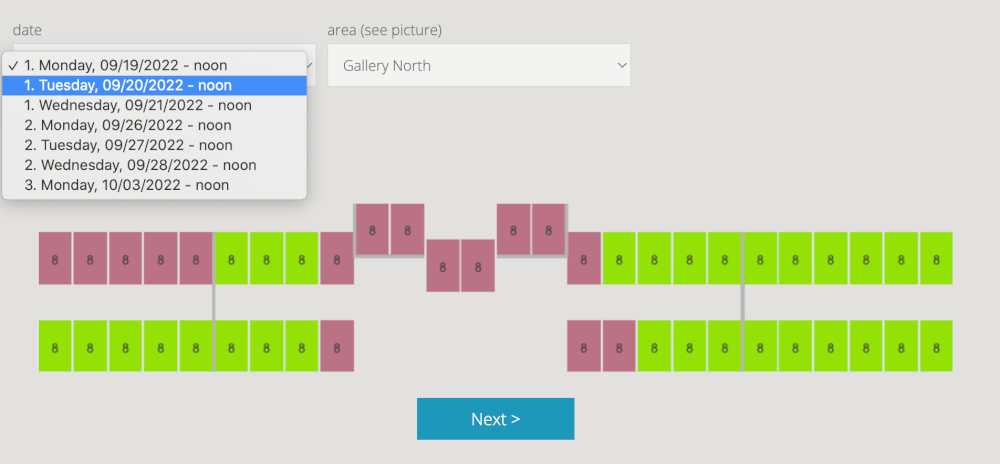 STEP TWO: You have to wait to hear back – processing can take up to ten weeks. If they have space for you, you'll get an offer via email which you can accept through a special activation code. The confirmation and payment request will come to you via email by the end of May at the latest.
STEP THREE: Once you receive it, you must then pay your invoice amount via bank transfer.
STEP FOUR: If you live in Germany, Austria or Switzerland, your reservation package will be mailed to you at the beginning of August. Otherwise, you can pick up your vouchers, etc. on the day of the reservation at the office in the tent.
OPTION B: 'München-Kontingent' Booking (for locals only)
If you live in Munich, you may be eligible for what they call their "München-Kontingent" tables reserved solely for Munich residents.
For Marstall Festzelt, reservations for these special tables must be made in person at their office (Lindberghstraße 4, 80939) from July onwards (exact date TBA).
Reservations are taken until all the spots are claimed. For this, you must pay in cash or debit card and you pay a processing fee of 20 euros.
To save time, you can download the reservation form in advance on their official website.
Overall Marstall Festzelt Decor & Vibe
The Munich Marstall was once an aristocratic riding school, and so the Oktoberfest Marstall tent pays tribute to this in the only logical way they knew how… with plenty of allusions to horses!
There's four horses at the entrance above the tent's distinctive heart-shaped window, horse motifs all around the walls and yes, the band even plays on a stage shaped like a carousel lined with horses.
I like this tent, but it's definitely fancier, more refined, and less of a party tent. With an emphasis on fine gastronomy and a nice menu of champagnes and wines, the target market here is bougier than most – after all, there's ribeye steak and black tiger prawns on the menu!
I might come here for a nice meal or a more refined Oktoberfest experience, but I think better parties are to be had elsewhere.
More Photos from the Marstall Festzelt
We Hope You Enjoyed This Guide to the Marstall Festzelt at Oktoberfest!
Have you been to this tent before? If so, be sure to share your experience in the comments to help other Oktoberfest visitors in the future. Prost!